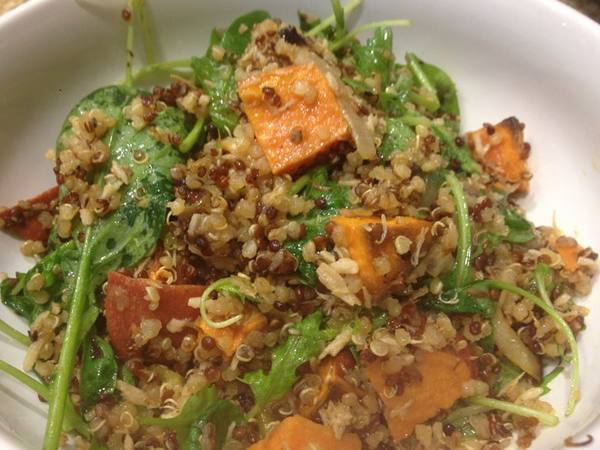 Roasted Quinoa Salad
Quinoa is a protein-rich superfood, and when paired with roasted sweet potatoes makes for a filling and nutritious meal.
Updated: Sun, 05/27/2018 - 7:48am
Ingredients:
3 cups cubed sweet potato or yam
1 cup cubed tart apple (like Granny Smith)
½ cup roughly chopped onion
3-4 cloves garlic, roughly chopped
2 Tablespoons coconut oil
Salt and pepper to taste
1 cup quinoa
½ cup shredded coconut
2 cups water
½ cup coconut, olive, or flaxseed oil
¼ cup apple cider vinegar
2 Tablespoons Nama Shoyu or soy sauce
4 cups finely chopped fresh mixed greens
1 cup thinly sliced carrot
Instructions:
In a large bowl toss together potato, apple, onion, garlic, and coconut oil. Season with salt and pepper. Layer onto baking sheet and bake at 450º for 30 minutes, or until potatoes are browned on edges. Remove from oven and let cool.
Meanwhile, in a large dry skillet, toast quinoa and coconut until fragrant and slightly browned.
In a saucepan bring 2 cups water to boil. Add quinoa and coconut. Bring to a boil, cover, then simmer 15 minutes. Remove cover, fluff with a fork, and let cool.
In a small bowl whisk together oil, vinegar, soy sauce, and agave until smooth. Set aside.
When potatoes and quinoa have cooled slightly, toss into a large bowl with salad greens and carrot, and drizzle with dressing, adding more or less to taste.