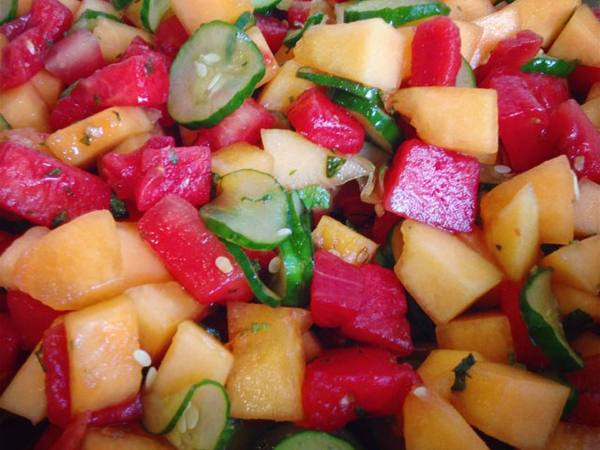 Summer Splash Salad
This quick and easy fruit salad makes use of Hawaii's best seasonal fruits. Enjoy this refreshing dish whenever you are feeling the summer heat! Adapted from the "Yummly" food blog.
Updated: Mon, 05/13/2019 - 8:59pm
Ingredients
2 cups cantaloupe, cubed
2 cups watermelon, cubed
1 cup thinly sliced Japanese cucumber (about 1 small cucumber)
1 cup halved cherry tomatoes or 3-4 medium-large tomatoes chopped roughly
2 Tablespoons chopped fresh mint
2 Tablespoons sugar
3 Tablespoons flavored vinegar
Instructions
Combine cantaloupe, watermelon, cucumber, tomatoes and fresh mint in a large bowl.
Combine sugar and vinegar in a small jar. Cover tightly and shake vigorously.
Pour mixture over melons. Toss gently.
Serve immediately, or cover and chill up to 2 hours. Serve with a slotted spoon. Enjoy!