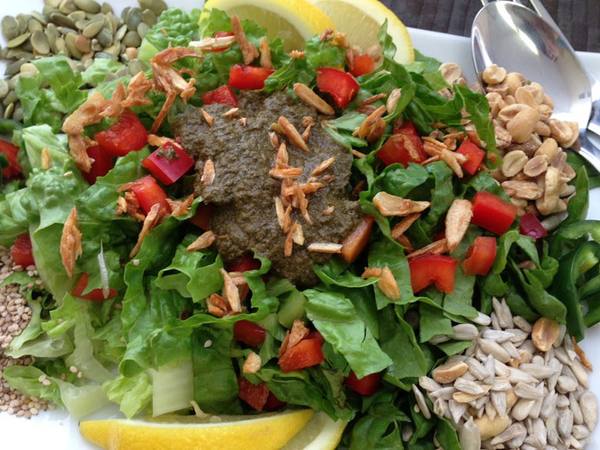 Tea Leaf Salad
This incredible salad recipe is adapted from the blog AbsolutelyMonica and is based on the AMAZING tea leaf salad at Burma Superstar in San Francisco (www.burmasuperstar.com).
Updated: Mon, 05/13/2019 - 8:51pm
Ingredients
½ cup brown rice vinegar
1 cup water
¼ cup loose green tea leaves or 8 tea bags
¼ cup sesame seeds
¼ cup hulled pumpkin seeds
¼ cup hulled sunflower seeds
¼ cup peanuts
¼ cup olive oil
5-6 cloves garlic, sliced thinly
Salt and pepper to taste
¼ cup sesame oil
1 Tablespoon Bragg's Liquid Aminos®, tamari or soy sauce
1 Tablespoon vegan Worcestershire sauce
1 head romaine lettuce, chopped
1 red bell pepper, seeded and chopped
1-2 lemons, cut into wedges
½ - 1 jalapeno, seed and chopped finely (optional)
Instructions
Bring the vinegar, water and tea leaves to a boil in a saucepan. Reduce heat and let simmer for 30 minutes. Strain tea leaves through a fine-mesh strainer with cool water. Pick out any twigs and discard. Press and squeeze leaves to remove as much moisture as possible. Set aside.
While tea leaves are simmering, turn oven on to 350°. Place sesame seeds, pumpkin seeds, sunflower seeds and peanuts, keeping them as separate as possible, onto a baking sheet.
Place baking sheet into oven immediately. Let nuts/seeds roast anywhere between 8-15 minutes – shaking sheet occasionally to prevent burning without mixing them up too much – until toasted. Remove from oven and set aside. Turn oven off.
While nuts/seeds are toasting, heat olive oil in a skillet over medium –high heat. Once oil is heated through, carefully add garlic slices to fry for 7-10 minutes or until golden brown and crispy. Remove pan from heat and let cool. Strain garlic oil into a measuring cup or bowl. Place fried garlic onto paper towels to absorb the oil.
Place tea leaves into a food processor and begin to process. As the machine is running, pour garlic oil, sesame oil, liquid aminos, and Worcestershire sauce – stopping to scrape the sides often. Process until tea leaves are minced and mixture is well combined.
Mix romaine and bell peppers together onto a large serving platter. In each corner of the platter, place 1 of the following: toasted sesame seeds, toasted pumpkin seeds, toasted sunflower seeds and toasted peanuts. Scatter fried garlic slices all over. Spoon half of the tea mixture in the middle of the salad. Place other half in a small bowl for anyone who needs extra dressing. Place lemon slices and jalapeno alternatively between toasted seeds.
When ready to serve, squeeze some lemon on top of salad and toss together well. Use extra dressing as needed or it can be refrigerated for up 1-2 weeks. Enjoy!