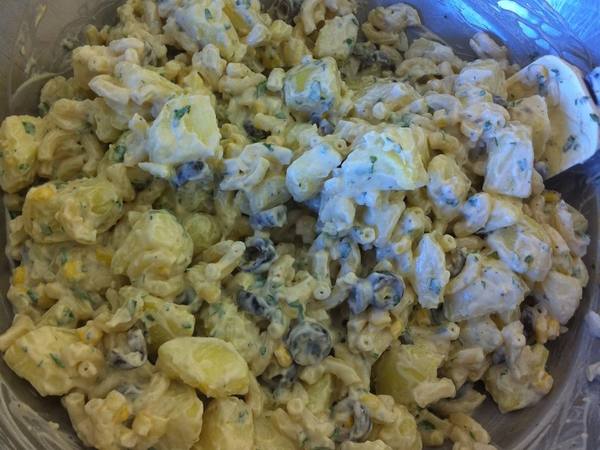 Vegan Potato Mac Salad
This tasty salad is a great side dish to serve at a BBQ -- but make extra, because the flavor is even better the next day!
Updated: Tue, 04/03/2018 - 8:10am
Ingredients
4 medium Yukon Gold potatoes, peeled and cubed
1 cup dry macaroni pasta
¾ cup vegan mayonnaise
2 teaspoons agave nectar
2 teaspoons vegetarian Worcestershire sauce
¾ teaspoon Dijon mustard
1 teaspoon Spike seasoning
¼ cup diced sweet Maui onion
⅓ cup sliced black olives
⅓ cup sweet corn kernels
3 Tablespoons chopped fresh parsley
Salt and pepper to taste
Instructions
Bring 2 large pots of well-salted water to a rolling boil. Toss potato cubes into one and cook just until soft, about 7-10 minutes, taking care not to overcook. Cook pasta according to package directions in second pot.
Drain each into separate colanders. Rinse well with cold water to prevent overcooking and sticking. Allow potatoes and pasta to stand in colanders until completely cooled.
Whisk together vegan mayonnaise, agave nectar, Worcestershire sauce, mustard and Spike in a non-metallic mixing bowl.
Combine potatoes, pasta, onion, olives, corn kernels and parsley in a large bowl. Toss with vegan mayonnaise mixture to coat well. Season with salt and pepper if desired. Enjoy!