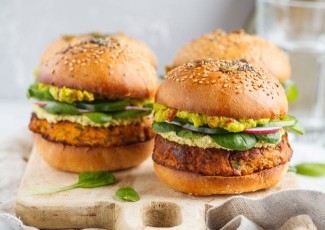 Mashed sweet potatoes add a different depth and heartiness that'll keep you full and satisfied all summer long.
Yield
20-24 small patties
Ingredients
3 cups water
1 pound sweet potato, cut into 2" chunks
2 carrots, thinly sliced
2 Tablespoons vegan margarine
1 cup thinly sliced onions
1 Tablespoon minced garlic
2-3 Tablespoons maple syrup
1 teaspoon each: ground nutmeg, cayenne pepper & paprika
Salt and pepper to taste
1/4 cup nutritional yeast
1/4 cup soy milk
1 cup roughly chopped kale
1 (15.25-ounce) can corn or 1 3/4 cup
1 cup peas
1 cup diced red bell pepper
1 cup cooked quinoa
1/2 cup panko breadcrumbs
Safflower oil
Instructions
Preheat oven to 400º. Line 2 large baking sheets with parchment paper.
Bring water to boil in a medium saucepan. Add sweet potatoes and sliced carrots and cook until soft - about 12-15 minutes. Remove from heat and drain.
Return saucepan to stove-top over medium heat. Add vegan margarine and onions. Sauté until onions soften - about 2-3 minutes. Add garlic and sauté for 1 minute.
Add sweet potato and carrot mixture back into saucepan. Stir in maple syrup, seasonings, salt, pepper, nutritional yeast, soymilk and kale until combined. Mash mixture with a potato masher until smooth. Set aside.
Pour panko into a small bow.
Combine corn, peas, peppers, and quinoa in a large mixing bowl. Fold in mashed sweet potato and combine with your hands.
Using a golf-ball sized of sweet potato mixture, form a 3" wide patty (about 1 1/2" thick) with your hands. Repeat with remaining mixture. Should yield about 20-24 small patties. Coat each patty with panko and set aside.
To serve immediately: Heat 1-2 Tablespoons oil in a large skillet over medium heat. Add a few patties at a time to prevent overcrowding and cook until crispy on each side, about ten minutes. Add more oil as needed. Transfer to prepared baking sheet until all patties are done. Bake for 15-20 minutes, flipping half way. Burger should be firm to the touch and browned. You can also skip frying and bake for 40-45 minutes, flipping halfway. To serve later: Allow fried patties to cool completely. Layer patties in an air-tight container using parchment paper to separate patties. Freeze until ready to use. Defrost in refrigerator for 1-2 hours before cooking.
Serve with your favorite buns and burger accompaniments. Enjoy!