Slow Cooker Vegetarian Lasagna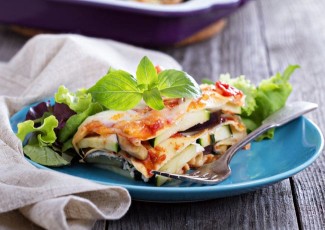 A slow cooker makes it easy to make this classic vegetarian entrée.
Ingredients
Basil Cashew Cheeze Sauce
1 cup raw cashews, soaked for 30 minutes up to overnight
¼ cup vegetable broth + more if needed
¼ cup lemon juice
½ cup nutritional yeast
Salt and pepper, to taste
1 Tablespoon Italian seasonings
2 teaspoons mustard powder
1 teaspoon onion powder
1 clove garlic
1½ cups fresh basil leaves or 3 Tablespoons dried basil
Lasagna
1 (25-ounce) jar pasta or marinara sauce
1 (10-ounce) box lasagna noodles or gluten-free lasagna, uncooked
1-2 cups spinach leaves
1-2 cups chopped zucchini
1-2 cups chopped onions
1-2 cups sliced mushrooms
2 cups shredded mozzarella, vegan mozzarella, or nutritional yeast
Instructions
To prepare Basil Cashew Cheeze Sauce: Drain cashews and rinse well. Transfer to a food processor or blender. Add in remaining Cheeze Sauce ingredients. Process until smooth. Set aside.
To prepareLasagna: Pour half of the pasta sauce in the bottom of a crock pot. Place a layer of noodles on top of the sauce covering the entire surface – break noodles if needed to fit pot.
Layer half of the Cheeze Sauce on top of noodles. Then layer half of the vegetables and 1 cup of shredded mozzarella.
Repeat with another layer of noodles, remaining Cheeze Sauce and vegetables.
Pour remaining pasta sauce on top of the lasagna and top with remaining mozzarella.
Cook on low for 4 hours. Lasagna can be served immediately or you can store in your freezer for a ready-to-go meal later on. Enjoy!
Freeze: After lasagna has cooked, allow to cool for at least 1 hour. Transfer to a large freezer-safe baking dish or individual glass containers. Cover with plastic wrap and foil and refrigerate for 1-2 more hours. After lasagna has completely chilled, place in freezer. Lasagna can be stored in the freezer for 3-4 months.
To Reheat: Allow lasagna to thaw in the refrigerator overnight or 1-2 hours at room temperature. Reheat in oven at 350° for 30-40 minutes.
To Bake: Alternatively if you don't have a slow cooker, you can also bake the recipe in the oven. Follow recipe as is in a 9"x13" baking dish, covered loosely with foil in a 400° oven for 40-45 minutes. Broil for 5 minutes and then serve. If you have a very large crock pot, consider adding an extra layer.