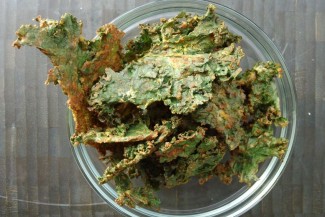 Are you one of those people who open a bag of chips and then quickly find yourself with an empty bag? Get your greens quota for the day in a delicious crispy snack that you'll actually crave!

Ingredients
¾ cup sunflower seeds or cashews, soaked for 1 hour up to overnight
1 large bunch of kale
1 red bell pepper, roughly chopped
½ cup nutritional yeast
¼ teaspoon each: onion powder, garlic powder, smoked paprika, chili powder, cumin, and cayenne
Salt and pepper, to taste
Instructions
Preheat oven to 300°. Line a baking sheet with parchment paper.
Drain sunflower seeds, rinse and drain again. Set aside.
Wash kale, destem and tear into large pieces and dry thoroughly in a salad spinner or blotted as dry as possible with paper towels.
Combine drained sunflower seeds, bell pepper, garlic, nutritional yeast and seasonings in a food processor or blender. Blend into completely blended and smooth.
Pour mixture into a large bowl. Add kale in and toss gently to coat. Shake off excess and transfer kale pieces onto baking sheet.
Bake kale chips for 20-40 minutes or until chips are crispy - checking on them frequently as they burn easily. Remove from oven and let cool. Once chips are cool, you can serve them immediately or store them in reusable storage containers at room temperature for 2-3 days. Enjoy!
Note: You can also use a dehydrator to make this snack completely raw! Instead of baking the chips, simply dehydrate them at 105° for 4-6 hours.