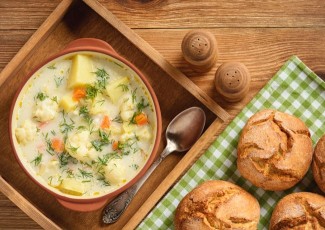 Coconut Curry Soup Recipe from Down to Earth Organic and Natural
Ingredients
1½ Tablespoons coconut oil
1 cup diced onion
1 Tablespoon finely grated ginger
2 cloves garlic, minced
4 teaspoons curry powder
2 cans coconut milk
1½ cups vegetable broth
1 teaspoon salt
2 cups cauliflower florets
2 cups cubed red potatoes
1 cup carrots, cut into half-rounds
2 cups shredded purple cabbage
Instructions
Heat coconut oil in a saucepan over medium-high heat.
Sauté onion, ginger and garlic for a few minutes.
Add curry powder and sauté for another minute.
Stir in coconut milk, vegetable broth and salt.
Add vegetables and mix well.
Cover with a lid and reduce heat to medium-low.
Add cabbage after 20 minutes of cooking and continue to cook for another 10-15 minutes or until veggies are tender. Serve hot and enjoy!