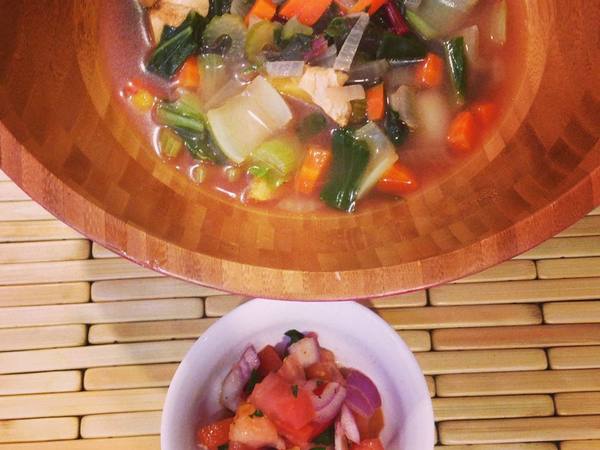 Filipino Ginger Soup
Filipino Ginger Soup Recipe from Down to Earth Organic and Natural
Updated: Mon, 05/13/2019 - 9:00pm
Ingredients:
1 one inch thumb of ginger
2 Tablespoons safflower oil
1 cup diced carrots
1 cup diced celery
1 onion, diced
1 shallot, chopped
2-3 cloves garlic, chopped
6 cups filtered water
1 vegetable bouillon cube
1 bunch Swiss chard, chopped
1 16oz container white button mushroom, sliced
2 bunches bok choy, chopped
Salt and pepper, to taste
Instructions:
Cut ginger into large chunks and gently crush pieces.
In a pot, heat oil over medium heat and saute ginger for about 30 seconds.
Add carrots, celery, onion, shallot, and garlic. Saute until fragrant or onions turn translucent.
Fill pot with water and bring to a boil.
Dissolve bouillon cube into the broth.
Add chard, mushrooms, and bok choy. Simmer until chard and bok choy get tender. Add salt and pepper to taste.
Serve and enjoy!