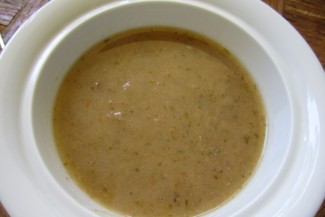 This soup is one of the foundations of the Gerson diet, and is thought to be particularly healing and nourishing. It is made without salt, though you may wish to add some if not following the diet strictly. In addition, spices that are high in aromatic acids and considered likely to counteract the healing reaction are omitted.
Ingredients
1 medium celery root, or 3-4 celery branches
2 small or 1 large leek
2 medium onions
Garlic to taste (may also be squeezed raw into the hot soup, instead of cooking it)
1 Tablespoon of parsley
1-1.5 # tomatoes
1 # potatoes
Instructions
Wash and scrub the vegetables and cut into slices of 1/2" cubes.
Put in a large pot, add enough water to just cover them. Bring to the boil. Simmer on a low heat for 1.5 – 2 hours, until all vegetables are soft.
Blend well, removing any fibers.
Serve or store in the refrigerator. Enjoy!