Mock Chick'n & Spinach Luau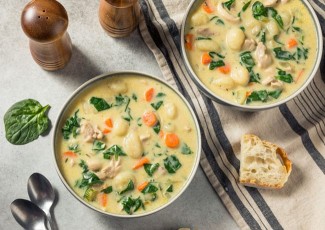 Mock Chick'n & Spinach Luau recipe from Down to Earth Organic and Natural.
Ingredients
2 Tablespoons macadamia nut oil
2-3 cloves garlic, minced
1 small yellow onion, diced
1 package Gardein™ Chick'n Scallopini, thawed and cut into fours
1 cup water
1-2 vegetable bouillon cubes
1 (16 oz.) box fresh spinach, torn
1 (13.66 fl oz.) can coconut milk
1 red bell pepper, diced
Sea salt and black pepper, to taste
Instructions
Heat oil in a large skillet over medium to medium high heat. Add garlic and onion and sauté until fragrant.
Add chick'n and cook until lightly browned, making sure to flip chick'n to cook both sides.
Lower heat and add remaining ingredients into skillet. Simmer for five minutes. Stir occasionally to prevent burning. Serve and enjoy!