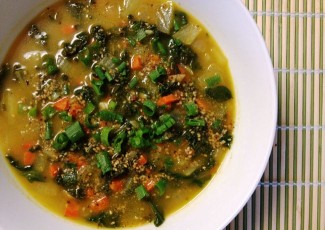 This soup is bright in color and flavor – perfect for Springtime!
Ingredients
Cashew Cream
¾ cup raw cashews, soaked for 2 hours up to overnight
1 cup water
Soup
2-3 Tablespoons extra virgin olive oil
1 onion, finely chopped
2 cups spinach leaves
2 cups chopped kale
1-2 carrots, diced
1-3 cloves garlic, minced
1 Tablespoon Italian seasoning
1-2 teaspoons red pepper flakes
Salt and pepper, to taste
4 cups vegetable broth
¼ - ½ cup lemon juice
2 Tablespoons apple cider vinegar or red wine vinegar
2-3 green onion stalks, sliced thinly
3-4 Tablespoons sesame seeds
Instructions
To prepare Cashew Cream: Drain and rinse cashews a couple times. Pour into a blender along with water and blend, scraping the sides as needed, until totally smooth. Set aside.
To prepare Soup: Heat oil in a large stockpot over medium heat. Add onions and sauté for a few minutes until softened.
Stir in spinach, kale, carrots, and garlic. Season with Italian seasoning, red pepper flakes, salt, and pepper. Sauté for 2-3 minutes more or until garlic is fragrant.
Pour in vegetable broth and stir to combine. Cook for 15-20 minutes, stirring occasionally, or until greens are wilted and carrots are tender.
Remove soup from heat and stir in lemon juice, vinegar, and cashew cream. Soup can be served as is or blended using a food processor or blender for a richer, creamier soup.
Garnish soup with green onions and sesame seeds. Enjoy!