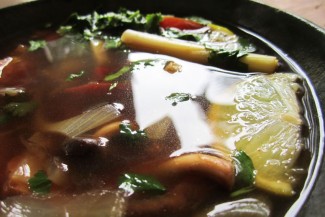 This spicy, hot, sour soup - perfect for clearing sinuses and banishing a cold - is often served as an appetizer. There are many variations of this soup throughout Asia. Other vegetables, tofu or tempeh can be added, as you wish.
Ingredients
3-5 chili peppers, or dried chili to taste
1 " slice of galangal or ginger, peeled
3 cloves of garlic
3 sticks of lemon grass, trimmed and chopped
1 Tablespoon of coconut oil                                             
2½ cups or water or vegetable broth
4 kaffir lime leaves, optional
1 onion, cut into rings
10 mushrooms, cut into thin slices
1 tomato, cut into small wedges, optional
1½ teaspoons salt, to taste
Juice of 1-2  limes, to taste
Handful of cilantro, as garnish
Lime wedges, as garnish
Instructions
In a blender, combine chili, galangal/ginger, garlic, and lemon grass into a paste.
Fry this paste in coconut oil, until aromatic.
Add the water/broth and kaffir lime leaves and bring to a boil for 2 - 5 minutes. If a clear soup is desired, strain the broth and return to the pan.
Add the onion, mushrooms, tomato if using, salt and lime juice. Adjust to taste for saltiness and sourness. Simmer for a couple of minutes until the vegetables are cooked.
Serve garnished with cilantro and lime wedges. Enjoy!