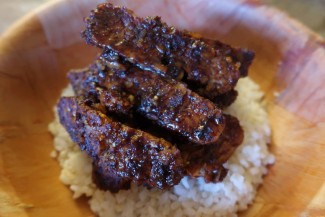 Using tempeh to create sticky BBQ classic will pack tons of nutrients into your meal without you even noticing!
Ingredients
1 Cup of your favorite BBQ sauce
1/4 Cup molasses or coconut nectar
1 8-ounce package of tempeh
2 Tablespoons of vegetable broth
Water for simmering
Instructions
Preheat oven to 375 degrees and prepare a baking sheet with parchment paper
Remove tempeh from packaging. Simmer water and broth in a small pot (enough water to cover the tempeh). Simmer for 10 minutes or until the tempeh is softened
While tempeh is simmering, make your sauce. Mix molasses and BBQ sauce until combined.
Remove the tempeh from the pot and place in a shallow container. Add 1/4 cup of the simmering liquid and allow to marinate for at least 20 minutes.
Cut marinated tempeh into thick strips and carefully place onto your baking sheet.
Bake for 10 minutes, then remove and generously brush sauce onto both sides generously. Return to the oven and continue baking for another 12-15 minutes.
Enjoy hot!