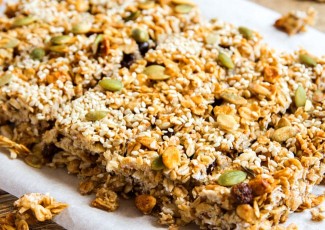 These sweet and chewy nutrient-rich bars are also an excellent source of dietary fiber. Lucuma powder is made from a sub-tropical fruit native to Peru and Equador.
Ingredients
1 cup sunflower seeds
1 cup sesame seeds
1 cup pumpkin seeds
1 cup chia seeds
½ cup hemp seeds
½ cup cacao nibs
1 cup shredded coconut
1 cup lucuma powder
1½ cups pitted dates
½ cup honey
¼ cup agave syrup
1 Tablespoon orange extract
1 cup goji berries
¼ teaspoon flax oil
Instructions
Put all of the seeds, nibs and coconut in a food processor and pulse lightly, about 4-6 times, leaving the large seeds chunky.
Place in a large mixing bowl and thoroughly stir in the lucuma powder; set aside.
Put the dates, honey, agave syrup and orange extract into the food processor and pulse until a chunky puree is reached.
Mix the date mixture with the dry ingredients thoroughly; stir in the goji berries.
Lightly oil a 9" square baking pan with the flax oil; wipe off any excess oil.
Press the seed mixture firmly and evenly into the pan, using a flat metal spatula to ensure evenness.
Cover and refrigerate for at least an hour prior to cutting into bars. Enjoy!