Taco Rice with Homemade Vegan Sour Cream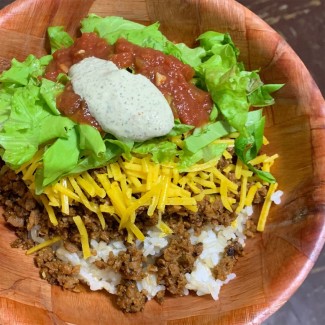 This is a fusion dish that originated in Okinawa, but it combines everything that we love here in Hawaii - flavorful food on top of freshly cooked rice! Who could resist?
Ingredients
¼ cup chopped onion
2-3 cloves minced garlic
1 cup cooked rice of choice 
1 cup shredded lettuce 
¼ cup salsa of choice 
Optional: ¼ cup shredded vegan cheese
Taco Meat 
1 cup textured vegetable protein (TVP) 
1 cup vegetable or mushroom broth 
1 tablespoon liquid aminos or tamari 
1 teaspoon mirin 
1 teaspoon toasted sesame oil 
1 tablespoon taco seasoning 
1 teaspoon garlic powder 
1 teaspoon onion powder 
1 teaspoon smoked paprika 
1 teaspoon salt 
1 teaspoon black pepper 
¼ teaspoon turmeric 
Vegan Sour Cream 
1 pack silken tofu, soft 
1-2 teaspoons ume plum vinegar 
Pinch of salt and pepper to taste 
Instructions
Heat a pan over medium heat. Sautee onion and garlic until fragrant. Add all the Taco Meat ingredients and turn down heat. Let simmer until liquid is fully absorbed. 
Make sour cream by blending silken tofu and ume plum vinegar until very smooth. If you can't find ume plum vinegar, use lemon or lime juice instead. 
Layer your taco rice bowl: Rice on the bottom, then lettuce, taco meat, cheese, salsa. Top with sour cream and enjoy!