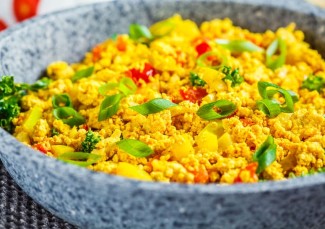 Great as an entrée, side dish, or as a breakfast wrap!
Ingredients
1-2 teaspoons canola oil
½ cup minced onion
½ cup minced carrot
1-2 cloves fresh garlic, minced or crushed
½ teaspoon curry powder
½ teaspoon tumeric powder
¼ teaspoon cumin powder
1 (10-ounce) package firm or extra firm organic tofu, drained and crumbled
¾ teaspoon Nama shoyu
Fresh cracked pepper
1 cup fresh spinach or arugula
¼ cup finely chopped scallions
Instructions
Heat oil in a sauté pan over low heat. Stir in onion, carrot, garlic, and spices and sauté for a few minutes. Add in crumbled tofu.
Stir constantly to ensure even cooking for about 3-5 minutes to heat throughly. Season with Nama Shoyu & fresh cracked pepper.
Stir in scallions and spinach just prior to serving. Enjoy!