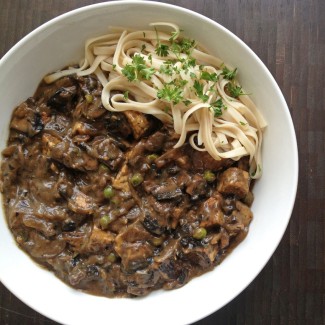 This version of the classic mushroom and noodle dish features tempeh for a hearty, vegan meal
Ingredients
2 (8-oz) blocks tempeh, cubed
3 tablespoons olive oil + 2 Tablespoons extra
2 cups thinly sliced onions
4-5 cloves garlic, minced
2 cups cremini or button mushrooms, thinly sliced
2 Portobello mushrooms, thinly sliced
2 cups vegetable broth
¼ cup mirin
⅓ cup nutritional yeast flakes
2 Tablespoons vegan Worcestershire sauce
2 tablespoons potato starch
1 Tablespoon fresh minced thyme
2 teaspoons Dijon mustard
1 tablespoon smoked paprika
1-2 teaspoons salt
½ cup unsweetened soymilk (more to taste)
1 cup frozen peas
1 (16-ounce) package noodles, cooked according to directions
Sour cream or Greek Yogurt for garnish
Minced fresh parsley for garnish
Instructions
In a large heavy skillet heat 3 Tablespoons oil on medium heat. Add cubed tempeh. Cook until browned on each side, adding more oil if necessary. Set aside.
In the same skillet, heat remaining oil. Lower heat slightly and add onion and garlic. Cook until onions have browned slightly. Lower heat and add all mushrooms. Cook until mushrooms are soft, stirring occasionally.
In a bowl whisk together broth, mirin, nutritional yeast, potato starch, thyme, mustard, paprika, and salt until starch has dissolved.
Add broth mixture to onions and stir well. Stir continually until mixture has thickened. Slowly add in soymilk until mixture is desired consistency. Add cooked tempeh and peas and stir to combine. Let simmer for five minutes on very low heat.
Divide noodles between bowls and cover with mushroom sauce. Garnish with a dollop of sour cream or yogurt and fresh minced parsley. Enjoy!