Tofurky Wraps w/ Goddess Dressing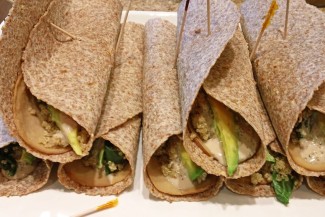 Tofurky® is a soy- and wheat-based lunchmeat substitute. This wrap is made using healthy greens and grains, and dressed in a rich homemade dressing.
Ingredients
Quinoa Mixture
½ cup quinoa, rinsed and drained
1 cup boiling water
½ cup chopped kale or other leafy greens
Homemade Goddess Dressing
2 Tablespoons sesame tahini
1 teaspoon lemon juice
1 teaspoon liquid aminos
Drop of honey or agave nectar
Pinch of black pepper
1-2 teaspoons water
Wrap
2 flour tortillas
4 Tofurky® deli slices
6 slices avocado
Instructions
To cook Quinoa Mixture: Add quinoa to boiling water in a small saucepan, cover and simmer for 15 minutes. Add kale on top to steam and turn off heat. Stir to fluff. Let cool before using.
Prepare Dressing: Mix tahini, juice, liquid aminos, honey and pepper in a bowl until it reaches a smooth texture; add water as necessary to attain a pourable texture. Set aside.
To make the Wrap: Layer tofurky slices, cooked quinoa and greens on a tortilla. Add avocado and pour dressing on top. Roll and enjoy!