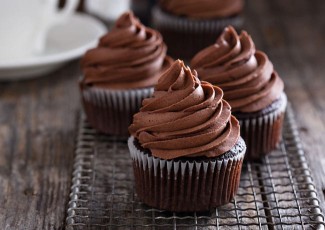 The unlikely pairing of avocado and chocolate results in a surprisingly delicious frosting that will have everyone wanting to lick the bowl clean. This recipe doubles as a yummy chocolate pudding!
Ingredients
1 (3-ounce) dark chocolate bar
2 ripe avocados, cut in half and seeded
¼ cup cocoa powder
¼ cup agave + more if needed
1 teaspoon vanilla extract + more if needed
¼ cup almond milk + more if needed
Pinch of salt
Instructions
To melt the chocolate, set up a double boiler: Fill a saucepan about a quarter-way with water. Turn heat up to medium. Break up chocolate into bite-sized pieces and add to a glass bowl (preferably one with a rim) that is larger than the saucepan. Set glass bowl on top of saucepan - making sure that the water doesn't touch the bottom of bowl.
Stir constantly with a rubber spatula until chocolate is completely melted. Carefully remove from heat and let cool slightly – about 5 minutes. Pour into a food processor.
Add all remaining ingredients. Blend until smooth and creamy – scraping the sides of the processor as needed. Taste and add more agave, vanilla or milk as desired.
Transfer frosting into a bowl, piping bag or a large plastic re-sealable bag (snip a small part of a corner to make a homemade piping bag). Let chill in refrigerator for about 15-20 minutes. Spread frosting onto your favorite desserts and enjoy!