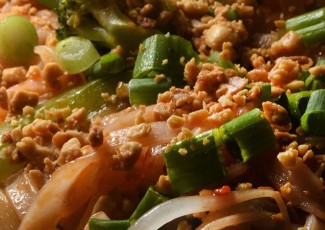 Pad Thai is an Americanized Thai dish, but it's a fun and easy way to explore some Thai flavors!
Ingredients
2 Tablespoons Vegan Fish Sauce (or soy sauce)
2 Tablespoons lime juice
2 Tablespoons tamarind paste
2 Tablespoons palm sugar or honey
2 Tablespoons palm oil or coconut oil
½ cup thinly sliced red onion
2-4 cloves garlic, sliced
1-inch piece ginger, grated
1 cup shredded carrots
7 ounces rice noodles, cooked according to package directions
Ground, roasted peanuts for garnish
Fresh chopped cilantro for garnish
Fresh mung bean sprouts
Limes for garnish
Instructions
Whisk together Vegan Fish Sauce, lime juice, tamarind paste and palm sugar. Set aside.
In a large heavy skillet or wok, heat oil until hot. Add onion and cook for five minutes. Add garlic and ginger and cook five minutes more. Stir in carrots.
Drain and rinse rice noodles. Add cooked noodles to skillet and toss to combine. Add sauce mixture, stir to coat, and let cook until sauce is absorbed and noodles burn slightly.
Remove from heat and divide between serving plates. Garnish with peanuts, cilantro, sprouts and serve with slices of lime. Enjoy!