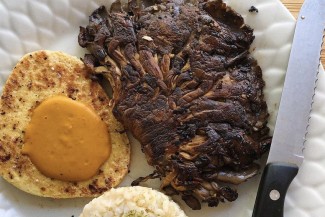 This recipe is easy enough for a weeknight dinner or the fanciest weekend brunch.
Ingredients
Steak
1 cluster of maitake mushrooms
1/2 teaspoon salt & pepper or adobo seasoning
Extra cast iron pan or clean red brick covered with foil
Optional: 1/2 teaspoon oil to prevent sticking
Eggs
1 block super firm tofu
1 tablespoon vegan egg yolk (Just Egg or Follow Your Heart Vegan Egg are some good ones!)
Salt & pepper to taste
Instructions
Cut off the base of the mushroom cluster, being very careful not to cut too high up. Keep the cluster together and do not separate the individual mushrooms.
Heat oil to the pan over medium-high heat. Add the mushroom cluster and season with salt & pepper.
Weigh the mushroom cluster down with the extra cast iron pan or foil-covered brick. This will flatten the mushroom into a steak shape. Try not to touch it too much, let the steak develop a nice sear or char.
Carefully remove the weight and flip the steak to sear the other side. Set aside.
Cut the tofu into 1/2 inch slabs, then round the corners to create an "egg" shape. Carefully cut a hole in the middle for the egg yolk to sit in.
Season tofu with salt and pepper then fry both sides over medium heat.
Add the vegan egg yolk to the hole and cook through. Flip and cook the other side.
Serve steak and eggs together over rice and enjoy!