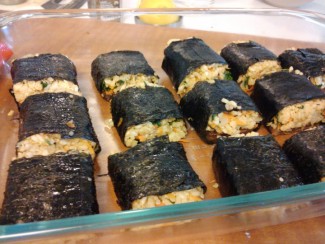 A great on-the-go snack that's filling, delicious, and healthier than its meaty counterpart.

Yield
5-6 individual musubis
Ingredients
1 cup brown rice, rinsed and drained
1 cup quinoa, rinsed and drained
1½ cups water
Pinch of salt
1 (2-ounce) package vegetarian "ground beef" or 2 cups crumbled tempeh
4 Tablespoons sesame oil, separated
1-2 cloves garlic, minced
½ cup shredded carrots
1 cup de-stemmed and shredded kale
½ cup chopped onion
⅓ cup brown rice vinegar
3 Tablespoons brown sugar
1 teaspoon salt
⅓ cup tamari or soy sauce
Furikake (optional)
3 nori sheets, cut in half
Special Materials – musubi maker (can be found at most local drugstores)
Instructions
Combine brown rice, quinoa, water and salt in a medium saucepan. Heat over medium-high until water comes to a rolling boil. Reduce heat to low, cover and simmer for about 35-45 minutes. Fluff with a fork. Rice mixture should be on the drier side. If still wet, fold rice over and cook about 10 minutes more. Set aside to cool.
Meanwhile, unwrap vegetarian ground beef into a small bowl. Shape into ½" thick patties by stuffing into a musubi maker. Yields about 5-6 patties. Set aside.
Heat 2 Tablespoons sesame oil in a large pan over medium-high heat. Add garlic and sauté for 5 minutes, or until soft. Add carrots, kale and onions. Cook until onions are translucent and kale is bright green. Transfer to a small bowl.
In a large pan, combine brown rice vinegar, brown sugar and salt. Cook over medium heat, stirring constantly until sugar dissolves. Transfer to a small bowl.
Heat the same pan to medium-high. Add 2 Tablespoons sesame oil and the patties. Drizzle with a few spoonfuls of sauce. Working in batches, cook on each side for 5-6 minutes or until browned and crisp. Set aside.
Transfer rice mixture to a large bowl and mix in sautéed vegetables. Add tamari and a few shakes of furikake. Drizzle remaining sauce over rice and fold together.
To assemble musubis, spread a nori sheet on a clean surface. Place musubi maker in the center of the nori. Insert a patty, pressing it to the bottom. Add rice mixture until almost full. Using the musubi maker handle, press down hard on the rice. Carefully remove handle and musubi maker. Wrap nori around musubi and use a wet finger to seal. Carefully flip over and set aside. Repeat until all patties are used. Serve immediately (recommended) or store at room temperature by wrapping musubi tightly with plastic wrap for up to 2 days. Enjoy!