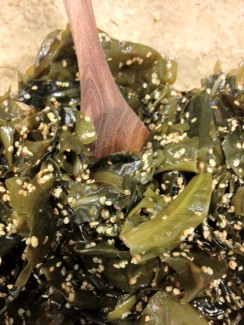 Wakame is a mild seaweed that can be served alongside your other favorite Asian-inspired dishes.

Ingredients
1 ounce wakame seaweed
Water
¼ cup sesame seeds
¼ cup hemp seeds
2 Tablespoons Nama shoyu or other soy sauce
2 Tablespoons brown rice vinegar
2 Tablespoons toasted sesame oil
1 teaspoon agave nectar
Instructions
Cut wakame into stamp-sized pieces using scissors. Fill a large saucepan with water and bring to a boil.
Add seaweed and keep at a rolling boil for 10-15 minutes or until it reaches a chewy but firm consistency (check after 10 minutes). Drain and set aside.
Heat a large skillet over medium heat. Add sesame seeds and hemp seeds. Toss or stir constantly to ensure even browning. Remove from heat when toasted. Set aside.
In a small bowl whisk together shoyu, vinegar, sesame oil and agave nectar.
Toss seaweed with dressing in a large bowl. Mix in seeds and serve warm or cold. Enjoy!