Down to Earth Organic & Natural will host an "Aloha for Our Neighbors" The Pantry Food Drive from Friday, December 18 through Friday, January 15, 2021 at its Honolulu location at 2525 South King St and Kakaako location at 500 Keawe St.
To help show support for our neighbors, Down to Earth will match all donations (for a limited time) made during the "Aloha for Our Neighbors" Food Drive. Down to Earth will also arrange for all donations to be delivered to The Pantry.
From December 18, 2020 to January 15, 2021, you can help by doing one of the following: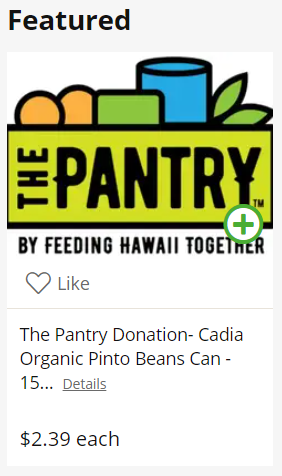 Online Donation Instructions
Please look for The Pantry logo or search for "The Pantry" to see the items most needed by The Pantry.
We recommend purchasing donations separately from your regular online order to avoid confusion.
A $10 minimum is needed for online orders.
When you've finished ordering your donations and are ready for check out, please select "Pick-Up" or "I'll Pick It Up" and select the soonest date/time. (Note: You won't actually pick up your donated goods; our team will get them ready for The Pantry on your behalf)
After that, pay as you normally would and you're pau! Our Honolulu and Kakaako Teams and The Pantry will take it from there.
Down to Earth hosted the "Aloha for Our Neighbors" Foodbank drive in June at our Pearlridge store, August/September at our Kailua store and November at our Kapolei store. Customers generously purchased nutritious foods, like beans, cereals, canned soups, and juices to donate via our shopping site. In store, customers donated an equal amount of in-store goods. Down to Earth also contributed matching donations for a total of about $5,000 in contributions.
The campaign was a big success and the Down to Earth team was very happy to see truckloads of healthy foods being delivered to the Hawaii Foodbank, and then to families in need. Mahalo to all of our customers who generously donated and showed true aloha for our neighbors!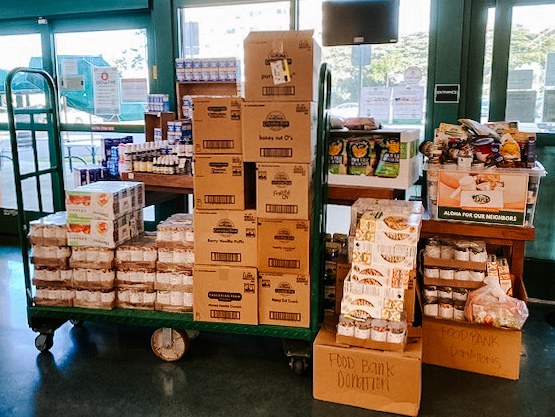 Since the onset of the pandemic, demand for food assistance in Hawaii has increased by more than 60 percent — and that number continues to rise. Foodbank organizations now face the unprecedented challenge of providing food for those affected by COVID-19 while continuing to support the 1 in 8 Hawaii residents already struggling with hunger.
Many of the organizations that typically donate large volumes of food have shut down. Restaurants and hotels have closed across Hawaii, and some grocery stores, which ordinarily share unsold inventory that is approaching its best-by date, have less to donate as they struggle to stay in business.
Down to Earth Organic & Natural's CEO Mark Fergusson shared, "We have seen our friends, family members and neighbors sitting in lines that are miles long for many hours for food donations out of desperation to provide for their loved ones. So many people in our state have been devastatingly impacted by COVID-19 and the closure of businesses, services, and our regular way of life. Our Down to Earth team wants to help provide healthy nourishing food that the Hawaii Foodbank can distribute."
For more information, please contact us at (808) 947-3249 or customerservice@downtoearth.org.