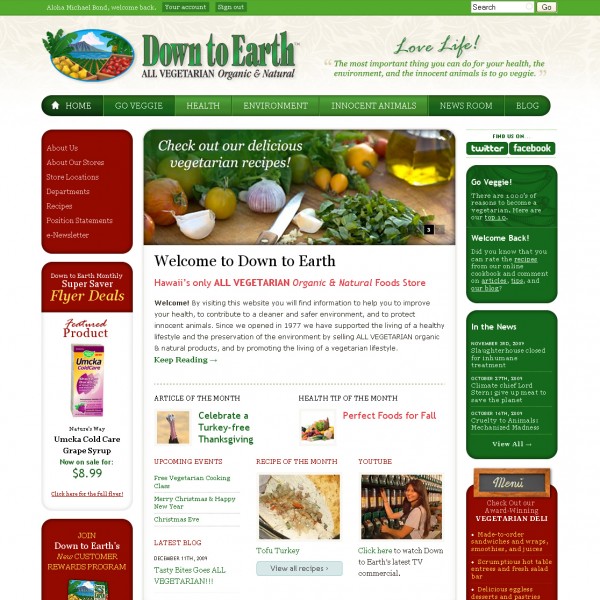 Honolulu, HI (Dec. 11, 2009) -- Down to Earth ALL VEGETARIAN Organic & Natural has updated and enhanced its website with a new design that more effectively promotes a vegetarian lifestyle. It is now on line at www.downtoearth.org.
The improved site makes it easier to find information that helps improve health, contribute to a cleaner and safer environment, and protect the welfare of all living beings, including the innocent animals.
"It is extremely comprehensive and full of useful information that is easy to access," says Mark Fergusson, Down to Earth's Chief Vegetarian Officer. "The new website reflects our strong participation in the natural products industry and Down to Earth's leadership in the vegetarian movement."
Down to Earth is Hawaii's only ALL VEGETARIAN food store chain and one of only a few in the nation.
Fergusson explains that the website provides a wealth of information on issues of relevance to Down to Earth customers and society as a whole. Examples include the promotion of organic agriculture, the maintenance of strong organic standards, and the importance of eating healthy, natural foods free of GMOs or other artificial ingredients.
The site features a blog that Fergusson started earlier this year. It provides insightful and hard-hitting views on health, environmental and vegetarian topics, and it offers "down-to-earth" solutions to many issues.
The website includes the company's monthly Reward Deals Super Saver sales flyer, its monthly e-newsletter "Earth News," vegetarian recipes, and information about its Customer Rewards Program. Visitors to the site can more easily find information about Down to Earth more easily, such as background about its stores, locations, products and departments as well as a wide variety of topics of interest to vegetarians and the natural food industry in general.
Down to Earth was started in 1977 in Wailuku, Maui. Today, Down to Earth is the largest local natural foods store chain in Hawaii with five locations: Honolulu, Kailua and Pearlridge on Oahu; Kahului on Maui; and Hilo on the Big Island.