Maui Weekly
Thursday - October 25, 2012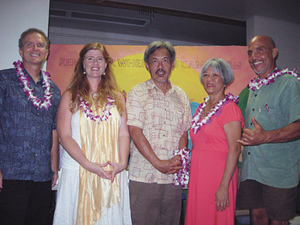 by Susan Halas
October 25, 2012
Advocates of mandatory labeling for GMO (genetically modified organism) food products hosted a forum for consumers on Saturday, Oct. 6, at Maui Waena School in Kahului.
About 60 resident attended the event co-hosted by Down To Earth Natural Foods and Seeds of Truth, a nonprofit community organization. Presenters included Dr. Lorrin Pang, a medical doctor; Dr. Melissa Yee, a doctor of oriental medicine and acupuncture representing Seeds of Truth; Courtney Bruch of GMO-Free Maui; Mark Fergusson, Down To Earth CEO; and Vince Mina, a Maui organic farmer.
To varying degrees, those who spoke warned about possible health and environmental hazards potentially present in foods that contained genetically modified ingredients. They called for accurate labeling and disclosure to protect consumers from risks that may not as yet be fully known.
None was more persuasive than Dr. Pang, who is employed as the Maui district health officer for the State of Hawai'i, but spoke at the forum as a private citizen.
Dr. Pang pointedly drew parallels between GMOs and tobacco, pesticides, lead paint, and other substances that at one time were believed to be safe and were subsequently found to have serious adverse health and environmental effects.
Pang pointed out that as late as the mid-20th century the healthcare profession denied any link between smoking and lung cancer, and that the announcement that smoking could be a serious health hazard was first published "not in a medical journal but in the 'Readers Digest!'" It took another 20 years, he said, to link secondhand smoke to a host of serious ailments in adults and children.
Pang warned that though there is still much to be learned about GMOs and research is still incomplete, that enough is known, especially "disturbing animal studies" which caution that caution, labeling and greater research, monitoring and disclosure are necessary.
"Is it a good idea to have pollen from genetically modified seed fields wafting through elementary school cafeterias?" Pang wondered aloud. He said he preferred to err on the side of caution, noting that there "could be many unintended consequences" to the new technology that have yet to be fully understood.
Also speaking forcefully for labeling was Bruch of GMO-Free Maui.
This organization, she said, is part of an international movement to hold technology and agribusiness companies accountable for their products. Bruch said that to date, over 50 countries have laws that require products containing GMO ingredients to be labeled. She said that national attention is now focused on California's Prop 37, a measure on the ballot in the November election that requires GMO labeling.
According to a Saturday, Oct. 6, article in the Huffington Post, "California voters will soon decide whether to require certain raw and processed foods to carry a [GMO] label.
"In a closely watched test of consumers' appetite for genetically modified foods, the special label is being pushed by organic farmers and advocates who are concerned about what people eat, even though the federal government and many scientists contend such foods are safe.
"More than just food packaging is at stake," the article continued. "The outcome could reverberate through American agriculture, which has long tinkered with the genes of plants to reduce disease, ward off insects and boost the food supply.
"International food and chemical conglomerates, including Monsanto Co. and DuPont Co., have contributed about $35 million to defeat Proposition 37... It also would ban labeling or advertising genetically altered food as 'natural.' Its supporters have raised just about one-tenth of that amount."
In Hawai'i, Dr. Yee said that Seeds of Truth had teamed up with Down To Earth Natural Foods last year to host a series of panels on O'ahu. The recent event on Maui was the first time they brought the message to the Neighbor Islands. She also said that it is important for Hawai'i to pass GMO labeling legislation. Yee said she first became aware of the possible dangers of GMOs in her own practice, when she started to see patients with food allergies and digestive complaints that seemed to be linked to their consumption.
Fergusson, who heads Hawai'i's largest natural foods chain with five outlets on O'ahu and Maui, warned that the GMO lobby is powerful and not acting in the best interests of the consumers. He urged shoppers to look for the USDA label "organic" as a reliable indicator that "no GMO ingredients are present." He also said that the term "Non-GMO Product Verified" is another label carried by about 5,000 products that are GMO-free.
The natural foods executive stressed that product labeling is a consumer issue, adding that when consumers demand food safety, it will have an economic impact. He found the Maui turnout "encouraging," but said that many of those who came were already convinced. "In the future, we hope to see more people show up who come to learn."
Maui is the home of one of Monsanto's GMO seed corn operations. Though there were frequent references to the agribusiness giant and other companies like Syngenta, Pioneer (a division of DuPont), BASF (a German chemical company), and Bayer Crop Science, there were no representatives of any of those firms present at the meeting. Nor were there any speakers present who took positions in favor of GMOs as safe and non-hazardous.
Source: