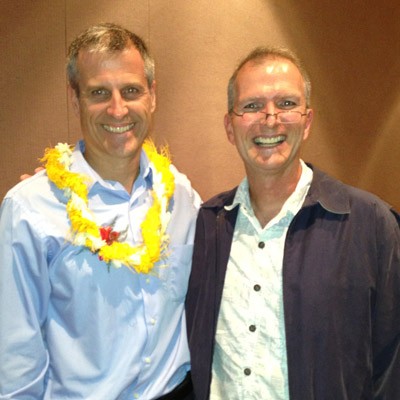 As continuing support for the Vegetarian Society of Hawaii (VSH), this week Down to Earth sponsored talks by Gene Baur, co-founder and president of the Farm Sanctuary, America's leading farm animal protection organization. Mr. Baur was the guest speaker at VSH's February 12th meeting at the Ala Wai Golf Course in Honolulu and the Maui Chapter of the VSH, at the Kaunoa Senior Center February 14th.
In his introductory remarks, Mark Fergusson, Down to Earth's Chief Organic Officer (CEO/CFO) said, "Gene is a leader in the compassion for animal's movement. We applaud Gene's phenomenal success in transforming his values into action by the establishment of animal sanctuaries, educating and inspiring others by his book, speaking tours, and by his life example and his successful advocacy of legislation that makes a difference to millions, if not billions, of animals."
"When we face issues, remarkable things can happen" says Baur. "That's why, in spite of the appalling things that I have seen with my own eyes, I remain optimistic that the situation will change."
Baur has been hailed as "the conscience of the food movement" by TIME magazine. For 25 years he has traveled extensively, campaigning to raise awareness about the abuses of industrialized factory farming and our cheap food system. His book, "Farm Sanctuary: Changing Hearts and Minds About Animals and Food," was published by Touchstone in March, 2008. He has appeared on the Los Angeles Times and Boston Globe best seller lists.