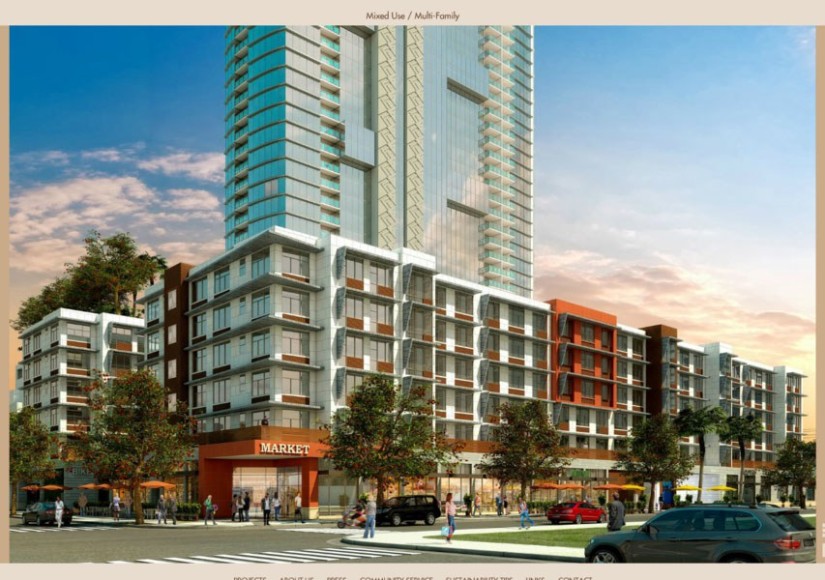 Honolulu, HI (Nov. 17, 2016) -- Down to Earth Organic & Natural today signed a long-term lease with Portland developer Gerding Edlen for a new store in their Keauhou Lane 209-unit mixed residential tower currently under construction in Honolulu's Kaka'ako neighborhood. 
The new Down to Earth store is slated to open in early to mid 2018.  It will be a 13,000 square foot location on the ground floor of Keauhou Lane at the corner of Keawe St. and Pohukaina St., just a few blocks behind the SALT at Our Kaka'ako cultural center. 
"Our expansion will enable us to provide local, fresh, organic and natural products to residents in an under-served part of Honolulu," says Mark Fergusson, Down to Earth CEO. 
Brent Gaulke, a partner at Gerding Edlen said, "Down to Earth's mission of improved health perfectly aligns with our development philosophy of delivering sustainable, environmentally friendly projects.  We are extremely pleased to welcome Down to Earth to Keauhou Lane."
"The new location will offer Down to Earth's largest selection of deli foods, including take-home pizzas, wok fried Asian style bowls, vegetarian sushi, and an array of new salads, all made to order while you watch.  There will be sweet potato fries and deep fried multi-colored vegetable chips to accompany items on the sandwich menu, cold pressed juice, and an extended selection of take home soups. The deli will include the company's acclaimed hot table with delicious entrees and salad bar, fresh juices and smoothies, a great made-to-order sandwich menu, fresh grab-and-go options and a wide variety of tasty desserts made daily," explains Fergusson.
Focus on Improving Health
"Down to Earth started almost 40 years ago with the goal of helping to improve the health of Hawaii's island communities through local, fresh, organic, and natural products and a vegetarian lifestyle.  This goal guides us today."
Down to Earth carries a wide range of natural and organic foods and groceries including dairy products and local fresh organic produce. Down to Earth also has bulk foods, which allow customers to purchase the amount they want and save unnecessary packaging and marketing costs on a wide variety of beans, gains and flours, cereals, candies, and more. Down to Earth has natural and organic body care products and truly green household items and, according to Fergusson, "the most complete range of all-vegetarian and natural, vitamins, supplements, herbs, and homeopathic remedies available in Hawaii."
Down to Earth has engaged Philpots Interiors, Hawaii's oldest and largest interior design firm, to give the store a new look that reflects its local roots.
JFodor & Co, LLC represented Down to Earth in the acquisition of its new space. "We are grateful to have found a prime location in a great new development that suited Down to Earth's needs," said Jessika Fodor.
Nick Paulic and Brooks Borror, principals of Commercial Consultants Inc, which represent the project, have been working on establishing a retail mix that is "local eclectic in such a multi-dimensional project." 
About Down to Earth
Down to Earth Organic & Natural was founded in 1977 when a group of like-minded friends in Wailuku, Maui, turned their enthusiasm and passion for organic and natural foods—and their vegetarian values—into a small retail store.  It had concrete blocks and wooden planks for shelves, beaten up old second hand equipment, low ceilings, and painted concrete floors.  From those humble beginnings Down to Earth has grown and flourished to become an important part of Hawaii's community with five stores throughout the state.  It employs almost 250 team members at five locations in Hawaii: Honolulu, Kailua, Pearlridge, and Kapolei on Oahu; and Kahului on Maui.  2016 is the tenth year in a row that Down to Earth has won the Star-Advertiser's 2016 People's Choice Award for Best Health Food Store.
About Gerding Edlen
Gerding Edlen is one of the nation's leading real estate investment and development firms focused on highly sustainable urban, infill, commercial, residential and mixed-use properties. Founded in 1996, the firm provides investors and partners the opportunity to achieve investment returns by creating and owning exceptional properties where people can live, work and learn. Uniquely grounded in the goals of creating transformational buildings, vibrant communities and investment quality assets, Gerding Edlen is committed to building high quality and deeply sustainable properties that ensure enduring value. For additional information on Gerding Edlen (now Edlen and Co.), please visit https://www.edlenandco.com/.