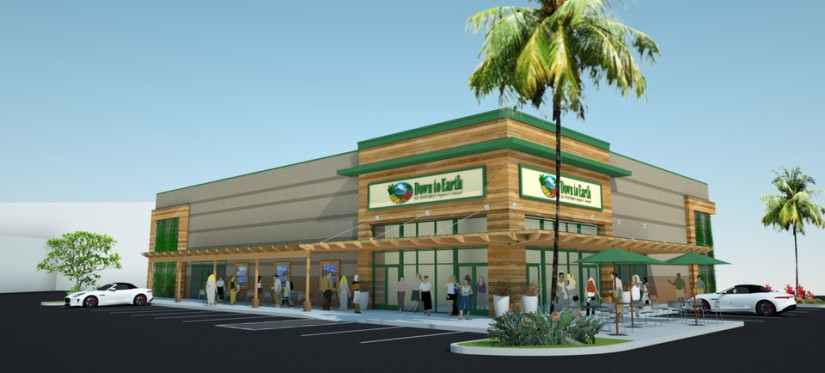 Honolulu, HI (Jan. 25, 2017) -- Down to Earth Organic & Natural has signed a long-term lease with Washington Prime Group, of Columbus, Ohio, for a new, stand-alone 10,000 square foot store that will be built at the Pearlridge Shopping Center on Oahu.  Pearlridge Center is the largest enclosed shopping center in Hawaii.  The new Down to Earth store is planned to open in the second half of 2018.
The new store will be located in the eastern section of the Pearlridge Center, by Toys-R-Us.  It will replace the current 4,000 square foot location that Down to Earth opened in 2000 at Pearlridge West, adjacent to Bed, Bath & Beyond. 
"Our new store will enable us to provide an expanded range of local, fresh, organic and natural products to residents of the Aiea and Pearl City region," says Mark Fergusson, Down to Earth CEO.  "We are excited by the planned expansion, and look forward to better serving the needs of our many loyal customers."
Fred Paine, general manager of Pearlridge Center, said "We are confident that the larger Down to Earth building will provide customers with a better shopping experience because of its wider array of products and more convenient location."
 "The new location will offer Down to Earth's expanded selection of deli foods, including take-home pizzas, wok fried Asian style bowls, vegetarian sushi, and an array of new salads, all made to order while you watch.  There will be sweet potato fries and deep fried multi-colored vegetable chips to accompany items on the sandwich menu, cold pressed juice, and an extended selection of take home soups. The deli will include the company's acclaimed hot table, with delicious entrées, and salad bar, fresh juices and smoothies, a great made-to-order sandwich menu, fresh grab-and-go options, and a wide variety of tasty desserts made daily," explains Fergusson.
Focus on Improving Health
"Down to Earth started almost 40 years ago with the aim of serving Hawaii's island communities by providing local, fresh, organic, and natural products—and by promoting a vegetarian lifestyle—that all help to improve the community's health.  This goal still guides us today," says Fergusson.
Down to Earth carries a wide range of natural and organic foods and groceries including dairy products and local fresh organic produce. Down to Earth also has bulk foods, which allow customers to purchase the amount they want and save unnecessary packaging and marketing costs on a wide variety of beans, gains and flours, cereals, candies, and more. Down to Earth has natural and organic body care products and truly green household items and, according to Fergusson, "the most complete range of all-vegetarian and natural, vitamins, supplements, herbs, and homeopathic remedies available in Hawaii."
Down to Earth will engage Philpotts Interiors, Hawaii's oldest and largest interior design firm, to give the store a new look that reflects its local roots in Hawaii.
About Down to Earth
Down to Earth Organic & Natural was founded in 1977 when a group of like-minded friends in Wailuku, Maui, turned their enthusiasm and passion for organic and natural foods—and their vegetarian values—into a small retail store.  It had concrete blocks and wooden planks for shelves, beaten up old second hand equipment, low ceilings, and painted concrete floors.  From those humble beginnings Down to Earth has grown and flourished to become an important part of Hawaii's community with five stores throughout the state (soon to be six with the opening of its new Kakaako location planned for late 2017 early 2018).  It employs almost 250 team members at five locations in Hawaii: Honolulu, Kailua, Pearlridge, and Kapolei on Oahu; and Kahului on Maui.  2016 is the tenth year in a row that Down to Earth has won the Star-Advertiser's People's Choice Award for Best Health Food Store.  For more information visit www.downtoearth.org
About Washington Prime Group
The Washington Prime Group co-owns the Pearlridge Center with Ohio-based WP Glimcher, the previous sole-owner of the Center.  Washington Prime Group is a premier retail real estate investment trust with a portfolio of 119 enclosed regional malls and open-air lifestyle community centers across the nation. It is an industry-leading, multi-faceted retail real estate owner, developer and manager. Washington Prime Group is headquartered in Columbus, Ohio.