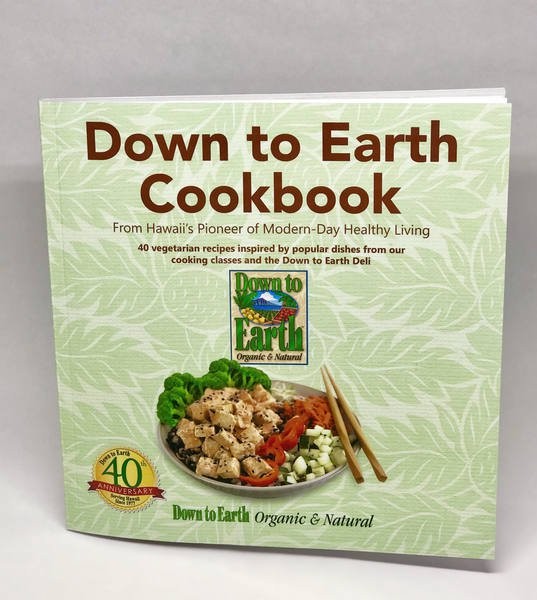 HONOLULU, HI (Dec. 13, 2017) — Down to Earth Organic & Natural has published its first Cookbook and will begin selling it in its stores on Thursday Dec. 14th.  The "Down to Earth Cookbook" is a soft-cover 112-page book that includes 40 vegetarian recipes, one for each year of the company's history, and beautiful pictures of each dish.  The recipes are a collaboration by vegetarian chefs of the Community Outreach Team at Down to Earth.
"We have always been an all-vegetarian store, and our signature offering is our deli, says Mark Fergusson, Down to Earth CEO.  "So it was natural that we celebrate our 40th anniversary with a cookbook."
Fergusson explains that the recipes selected for this cookbook are inspired by many of the most popular dishes from Down to Earth's cooking classes and its delis.
"The recipes reflect our dedication to excellence that drives every aspect of what we do at Down to Earth," he adds.
The cookbook also includes a review of Down to Earth's start on Maui in 1977 and how it continues to honor its vision to help improve the health of Hawaii residents through organic and natural products and a vegetarian lifestyle.  "This mission has enabled us to become one of the leading independent natural food store chains in Hawaii and the country."
The Down to Earth Cookbook will be sold in Down to Earth stores for $19.99 beginning next Thursday Dec. 14th  It will be sold online for the regular price of $33.95 by publisher Balboa Press on Amazon, Barnes & Nobel, and other websites in its distribution network. An e-book version will sell online for $3.99.
Down to Earth has five stores throughout the state (soon to be six with the opening of its new Kakaako location planned for spring 2018).  It employs over 250 team members at five locations in Hawaii: Honolulu, Kailua, Pearlridge, and Kapolei on Oahu; and Kahului on Maui.  2017 is the eleventh year in a row that Down to Earth has won the Star-Advertiser's People's Choice Award for Best Health Food Store.  For more information visit www.downtoearth.org