Vegan Jalapeño, Pineapple, and Bacon Pizza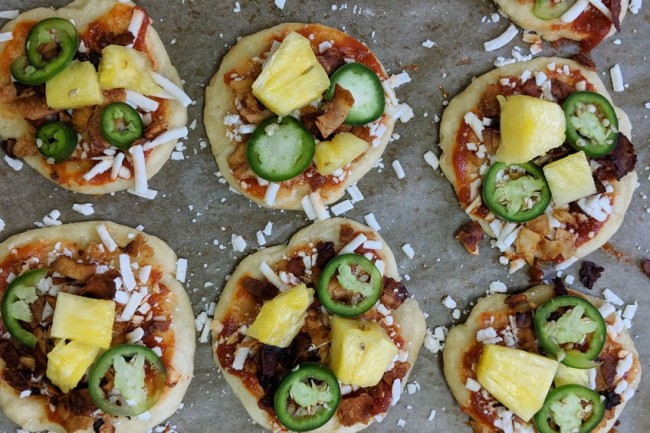 Jalapeño, pineapple, and coconut bacon come together to make the perfect pizza. Because the dough only needs to rest for 10 minutes, this is a great meal for busy evenings.
Ingredients
Dough:
1 packet dry active yeast
1 teaspoon sugar
1 cup warm water
3 cups flour + 3 Tablespoons
6 Tablespoons olive oil
1 teaspoon salt
Toppings:
½-1 cups marinara sauce
1 8-ounce package vegan mozzarella cheese
2-3 cups coconut bacon
½ pineapple, diced
2 jalapeños, sliced
Instructions
For the Dough: Preheat oven to 400º. Lightly grease a baking sheet. Set aside.
Place yeast, sugar and water in a large bowl. Whisk to combine, until yeast is dissolved. Let sit for 10 minutes.
Mix in 3 cups flour, 3 Tablespoons olive oil, and salt. Sprinkle extra flour if too sticky.
Form into a round ball and drizzle with remaining olive oil. Let stand for 5 minutes.
Knead dough until smooth. Using your hands, shape dough into a circle; about 12 inches wide. Place on prepared baking sheet and continue to spread out. For a thicker crust do not spread out too much.
Bake crust for 10 minutes. Remove from oven.
For the toppings: Pour marinara sauce into center of pizza dough. Use a spoon or spatula to spread evenly to edges of crust. Sprinkle vegan cheese on top.
Next, sprinkle coconut bacon on top of vegan cheese. Place pineapple and jalapeño evenly across pizza.
Return pizza to oven and bake for another 8-10 minutes.
Serve warm and enjoy!