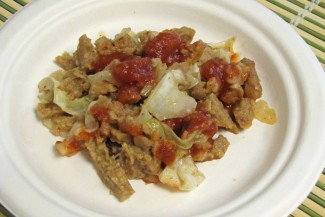 Get that smoky local favorite with a vegan twist! This versatile and easy seitan steps in for its meaty counterpart.
Ingredients
Safflower oil
1 cup vital wheat gluten
2 teaspoons smoked paprika
2 Tablespoons nutritional yeast
2 teaspoons onion powder
2 teaspoons garlic powder
Salt and pepper to taste
¾ cup water
2 Tablespoons nut butter
1 teaspoon liquid smoke
1 Tablespoon soy sauce or ½ Tablespoon coconut aminos
1 cup chopped local onions
1 cup chopped local kale
1 cup chopped local green cabbage
½ cup organic vegetarian chicken broth
Instructions
Preheat oven to 350°. Grease an 8" x 8" glass baking dish with safflower oil.
In a large bowl, combine gluten, paprika, nutritional yeast and seasonings.
In another large bowl whisk together water, nut butter, liquid smoke and soy sauce.
Make seitan by mixing together wet and dry ingredients until dough forms. Knead gently into a round, firm ball.
Press dough ball into baking dish until it fills pan evenly. Using a sharp knife, cut into cubes.
Bake for 20-25 minutes or until golden brown.
Remove from oven and let cool. Remove from baking dish and shred pieces by hand, with a knife or pulsed a couple times in a food processor.
Heat 1 Tablespoon safflower oil in a large skillet over medium heat. Add vegetables and sauté for a few minutes, until onions are soft.
Add broth and seitan to skillet. Sauté for 5-10 minutes or until liquid is absorbed. Serve as is or in a sandwich. Drizzle with your favorite barbeque sauce, such as our Spicy Smoked Pineapple BBQ sauce. Enjoy!