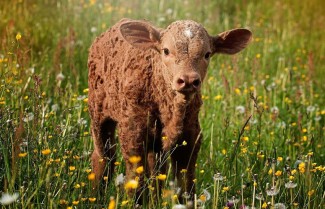 The single most important thing an individual can do for their health, for the environment, and for the sake of the innocent animals is to adopt a vegetarian diet.
If you are interested in reducing or eliminating meat from your diet, remember that the transition to a vegetarian diet should be just that – a transition. New habits never take hold overnight. We are all individuals and when it comes to making lifestyle changes, we all move at our own pace. Below are some suggestions and tools you can incorporate into your life to ease your transition to a plant-based diet.
Start by eliminating meat from at least one meal per week.Each week, try to eliminate one more meat-based meal.This allows for a slow but progressive movement toward vegetarianism.
Have the right ingredients on hand to make tasty veggie foods.Here is a list with some ideas:

Bragg Liquid Amino's (similar to soy sauce, great for seasoning tofu, rice, asian dishes, etc.)
Nutritional Yeast:A great vegetarian source of B-vitamins with a great flavor.Try it on tofu, in salad dressings and on toast.Nutritional yeast has a flavor commonly described as cheesy and nutty.
Spike brand seasoning (regular or salt-free): An all-purpose, all-vegetarian seasoning.Use in soups, casseroles, on tofu and tempeh, on sandwiches and salads, etc.
Vegetarian Stir-fry sauces: Simple to add to any vegetable dish for extra flavor.
Thai Curry paste for making Thai dishes or try Indian curry for Indian dishes.
Vegetarian chicken-flavor broth or powder: For soups, or as a seasoning.
Miso paste: season veggies, also good for making a soup base.

Try different types of meat-substitutes:

Vegetarian deli meat slices:Great for sandwiches. Try the many different brands available at DTE.
Vegetarian ground beef, sausage patties, etc. Put them in your tacos, burritos or have for breakfast.You won't even miss the real thing!
Veggie burgers. DTE carries a wide selection of brands and flavors.Some taste very meat-like, others resemble meat less, but have their own delicious flavor.
Fried tofu cubes: There are many ways to make great-tasting tofu. Experiment with recipes on our recipe page at downtoearth.org.
Tempeh:A lesser-known soy product than tofu, but another delicious and nutritious meat-alternative.

Down to Earth is a wonderful source for products, recipes, and ideas to help you in your transition to a more plant-based diet.Please visit our store or our website.We are here to help!