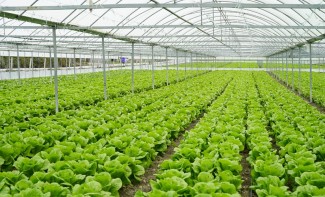 The GMO (genetically modified organism) seed timeline in Hawaii goes back to the mid-90s. An outbreak of ringspot virus destroyed most of Hawaii's rainbow papaya crops, causing production to fall 40%. To combat the virus, a University of Hawaii professor genetically engineered a ringspot-resistant strain of papayas. Shortly afterwards these modified rainbow papaya seeds were handed out free to farmers, and the rest, they say, is history.
If it's not labeled organic, the Hawaiian papaya you buy for your family is most likely from a genetically modified tree. Unless, of course, you got it at Down to Earth! Down to Earth sells non-GMO papayas only, sourcing our papayas from local non-GMO farms. But that's not the only non-GMO produce we offer.
We also sell produce from Mari's Gardens, an 18-acre certified organic non-GMO aquaponic and hydroponic farm located in Mililani on the island of Oahu. Their mission is to promote sustainable living, organic non-GMO urban farming, and buying local. They are dedicated to practicing sustainable methods of farming to produce a variety of vegetables and fruits for the Hawaiian islands. They also offer farm tours, farm-to-table dinners, workshops, private events and much more.
Mari's Gardens primarily grow lettuce, tomatoes, and cucumbers. There are no GMO seeds available for sale on the market of the type/variety of produce they grow. GMO seeds are typically used in corn, soy, and wheat production. Though they are not Non-GMO Project Verified, they are organically certified and that certification requires non-GMO seeds for production. According to Mari, "We currently wouldn't consider using GMO seeds. We want to provide people with the choice of non-GMO produce".
Hawaii has long been a battle ground over GMO issues, but there are still no statutes at the state level that expressly focus on GMO crops. Ultimately, you vote with your dollar, and what you choose to buy now will determine whether future generations will be able to enjoy healthy, uncorrupted produce grown on these exquisite islands. Please choose non-GMO.