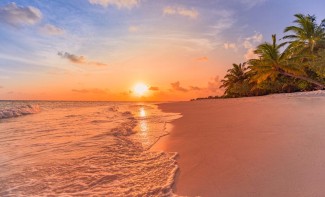 The Christmas season can be a challenge to our eco-consciousness: we pour energy into light displays, burn gas on shopping trips, wallow in packaging and wrapping paper, and spend money on gifts that cause more ecological harm than good.
But wait...there is a better way! In the spirit of the season, you can give the following ethical and environmentally-friendly gifts to the Earth. In return, you'll receive the gift of knowing that you are contributing to a healthy home, community, and planet.
Make a delicious, wholesome, all-vegetarian holiday meal for someone. Looking for some great vegetarian holiday recipes? Find them at www.downtoearth.org/recipes.
Reduce pollution and CO2 emissions by buying organic, natural, local products.
Use LED holiday lights, cutting the energy drain of light displays by 80%.
Give non-consuming gifts. Consider a donation to a preferred charity or to one of the 'adoption' programs designed to help endangered species or ecosystems. Or give the gift of a memorable experience: a special meal, a ticket to a concert or event, admission to a favorite park, museum or exhibit.
Make your own greeting cards from used materials, or go paperless altogether by phoning loved ones or sending electronic greetings.
Lose the wrapping paper. Instead, wrap gifts in used materials: shopping bags, magazine pages, comic strips, paper art projects, cloth, boxes or tins.
Buy recycled. If purchasing gifts or cards, choose those made from recycled materials to 'close the loop' and encourage making waste into new products.
Include rechargeable batteries and a charger with gifts that require batteries.
Reduce, reuse, recycle in all your holiday shopping and entertaining. Take along reusable or pre-used bags when going out to shop. Buy groceries in bulk or in containers that can be recycled in your area. When gathering for meals, choose reusable dishes, cups, utensils, and cloth napkins rather than disposables.
Save gas by combining shopping trips, taking the bus, or shopping online.
Have your Christmas tree composted. On Oahu visit www.opala.org (link is external) or call 768-3200 for more information. On Maui see www.co.maui.hi.us (link is external) or call 270-7874.
Buy a locally-grown Christmas tree or use a clever alternative – there's no need to get a tree that's been shipped all the way from the mainland! Purchase a Christmas tree from Helemano Farms on Oahu to save transport fuel and protect our islands from invasive organisms (www.helemanofarms.com (link is external)). Or get creative: decorate a beautiful local plant that will thrive at your home, bringing memories and enjoyment long after the holidays.