Updated Blog Post 10/8/20
Down to Earth loves supporting vendors who do more than just sell a product, they improve lives. Maʻo Organic Farm is one of our favorite produce suppliers because they do just that! Not only do they grow delicious produce sustainably, but they are also preparing the youth of Oʻahu's west side to be future leaders.
Maʻo uses organic farming practices to grow their onolicious produce. This way of farming is not only better for anyone who eats their veggies, but also for the land and generations to come. Everyone at Maʻo has a deep understanding and respect for the land being tended. There is a sense of tradition rooted in everything that goes on at the farm. Down to Earth visited Maʻo for a volunteer work day (prior to the COVID-19 outbreak) and we got to see first-hand just how much care goes into all aspects of farming. From the lack of chemicals and pesticides to the interactions between staff members—this is a place where just about anything can grow and thrive.
The vegetables aren't the only things getting a good start here at Maʻo—the staff is made up of mostly college students who are getting a full tuition waiver at LCC through the farm. Here, they learn how to farm organically and how to be leaders in whatever path they choose to pursue. This program has been instrumental to the farm's success and has created many young, new farmers who are equipped with the knowledge of sustainable farming practices and respect for the land. The program's goal is to create a ripple effect that will improve the lives of the students, their families and ultimately, the community.
To say that Maʻo Organic Farms not only talks the talk, they walk the walk. Their values are very aligned with Down to Earth and we are proud to sell their produce on our shelves. Just know that when you add that Maʻo kale or carrots to your salad, you're adding more than nutrition to your life, you're helping to shape our community as well.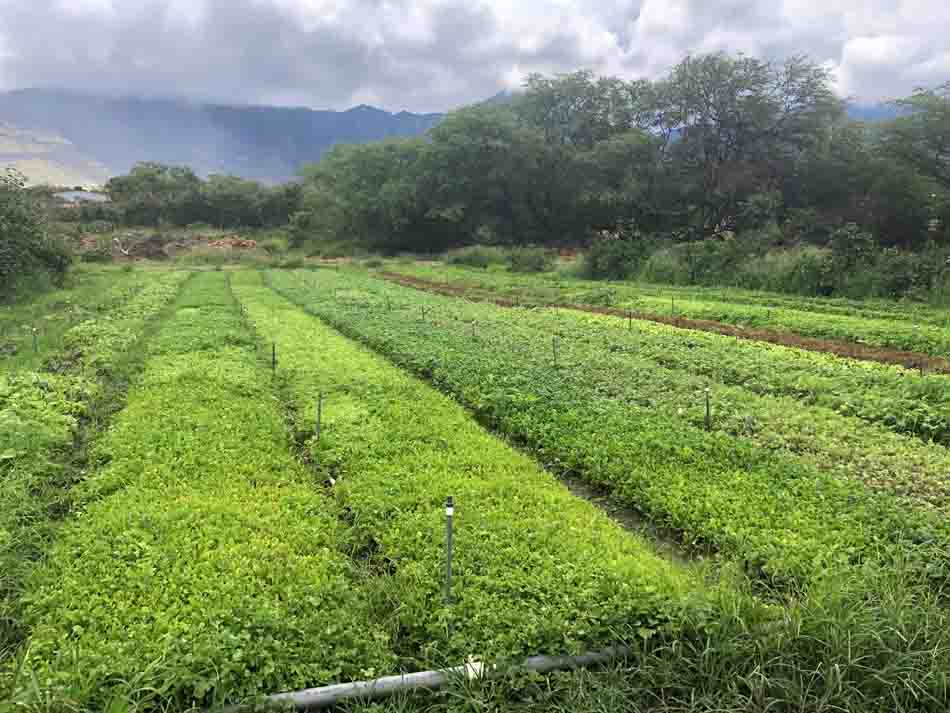 ---
Original Blog Post 8/26/16
As you drive up the Waiʻanae Coast, especially coming from Honolulu, you might notice a wonderful sense of vibrancy growing as you go further west. This invigorating feeling intensifies as you pull up to the seemingly quiet fields of Maʻo Organic Farms. As you look up into the incredibly dry Waiʻanae Range in the background, you may be surprised that anything grows out here, let alone a commercial farm that sells a huge volume of produce. You can feel that something very special must be happening here to not only survive but to flourish. Maʻo is definitely doing something special.
If you're not familiar with Maʻo Organic Farms, they are a socially conscious organization, set up to serve the needs of the local Waiʻanae community with special emphasis towards helping local underprivileged youth learn sustainable, organic agriculture and development. Underlining their mission is a commitment to do everything with the spirit and heart of Hawaiian culture. Maʻo shows its young workers not only how to make a farm work but allows them to be full, respected stakeholders in the process, providing a much needed honorable purpose to many. Their amazing efforts have been well documented from winning non-profit awards to having a visit from First Lady Michelle Obama. Despite all the attention and accolades, Maʻo does an amazing job in sticking with its roots and making that apparent in everything they do.
The Down to Earth Produce team was lucky enough to visit Maʻo recently to tour the property and to talk story. Showing us around was the Farm Operations Director and co-founder of Maʻo Organic Farms, Gary Maunakea-Forth. That something special you're feeling is coming off in waves straight from Gary. He manages to make you feel relaxed and excited instantly. His unassuming, friendly manner will make you feel like you've been buds forever. As soon as he gets through the pleasantries, he gives you the full run down of what's going on at the farm like you're a part of the team. Walking through the fields, he seems to know each plant, each leaf, each fruit, each seed. Progressing through the fields, we find that this generous spirit from Gary is not exclusive to him… everybody (and we do mean everybody) seems to generate this infectious energy. They're all excited about the organic produce they're growing out there. Each person has their favorite plant, their favorite way to cook with it – the sense of ownership, pride, and hard work is pretty apparent. Not satisfied to just provide the same produce as everyone else, the folks at Maʻo listen to their customers' needs and requests and will often dedicate a small field for special requests. Constantly experimenting with different produce, they never stray away from their commitment to being organic. In fact, their slogan is "No Panic, Go Organic!" and this phrase is not taken lightly. This is why Maʻo Organic Farms is one of our favorite local farms – providing high quality, local, organic produce as well as an incredibly inspirational mission and spirit.
You can buy Maʻo Organic Farms produce at any Down to Earth location on Oahu. They sell a wide range of products from bunched kale to bags of salad mixes. For more information on this incredible farm, please visit their website at: https://www.maoorganicfarms.org/ .