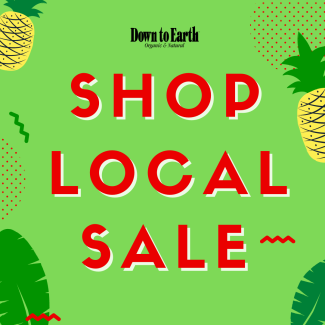 Get your Holiday shopping done + Support Local
Down to Earth doesn't normally do a Black Friday sale but this year, we are having a sale with a local twist! During these difficult times, we want to encourage everyone to show all local businesses a little extra aloha.
This year during Black Friday weekend Friday 11/27 - Sunday 11/29, we're giving 10% off any and all LOCAL items in the store. No matter what department, if it's local, it's on sale!
Look for Local items in Local Produce, Grocery, Wellness, Hair & Body Care, Supplements, Chill and Frozen departments
This sale will be at all Down to Earth locations - look for the closest one to you. 
Look for the "Local" icon on our shelf tags to see all the goodies that are on sale. Discounts will be applied at the registers.
This sale is only available in store.
If you have any questions, please give us a call at (808) 947-3249 or email us at customerservice@downtoearth.org.
We may not be in the office but we do check our voicemails regularly. Email is typically the fastest form of contact.