At Down to Earth Organic & Natural, we pride ourselves on creating delicious vegetarian dishes using local, fresh, and organic ingredients. Our deli offers an extensive range of appetizing dishes and fresh ingredients. On our hot table and cold salad bar, customizing your meal is easy and fun. Just around the corner from our hot bar, you'll find the bakery case, which is stocked with delectable pastries baked fresh daily, including a variety of vegan and wheat-free options. You can also grab sandwiches, super smoothies and smoothie bowls, freshly squeezed juices, organic espresso drinks and more from our made-to-order menu. Customer favorites include the hand crafted "Earth Burger", packed with wholesome ingredients including sweet potato, almonds, and oat flour. Even our burger buns are all baked fresh daily! No artificial ingredients or preservatives are used. Just natural, homemade goodness! The Down to Earth Deli team hold their vast spread of prepared vegetarian foods to high culinary standards. They love developing new recipes and hearing suggestions from customers making sure there's always something exciting and new just around the corner. With so many options, Down to Earth is a great destination for people from all walks of life seeking food that's not only tasty but good for you, too! Click here to find out more information on our Deli Menu.
Here are some of our favorite "Made from Scratch" items: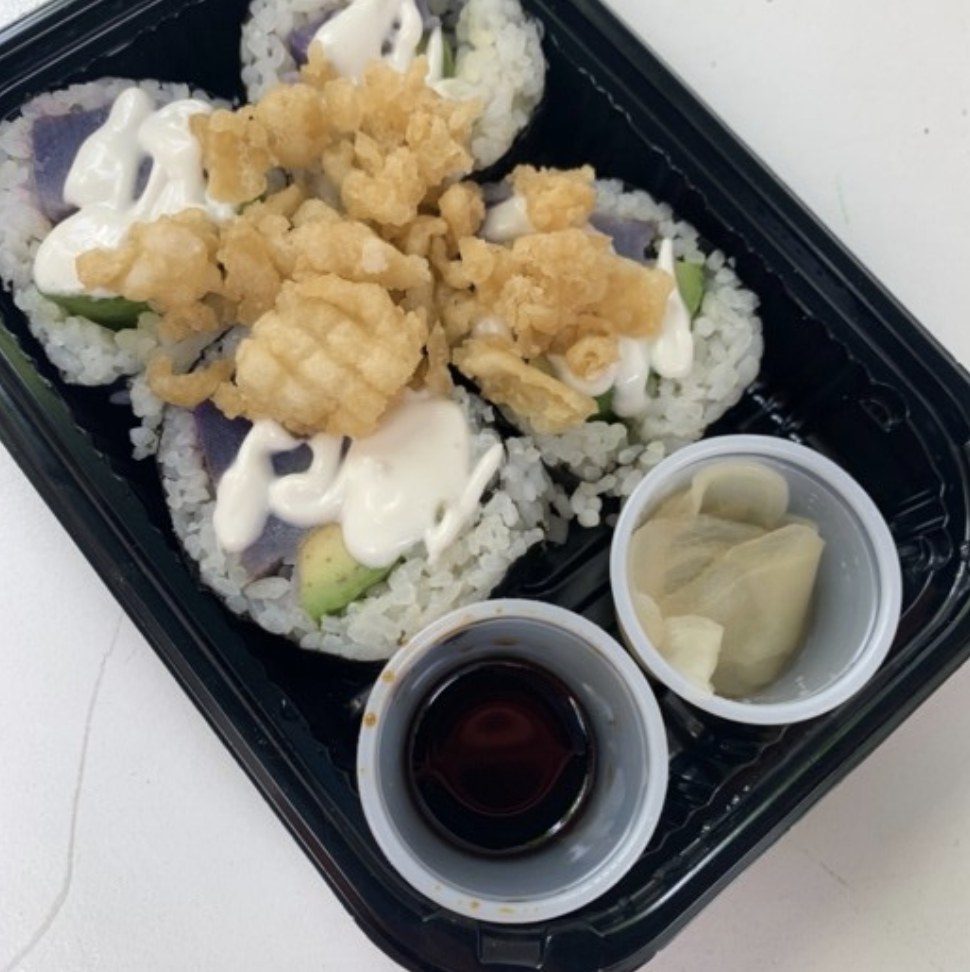 Okinawan Sweet Potato Tempura Roll from our Sushi Bar
The combination of these flavors is so mouthwatering. It is only found at certain locations but so worth it. Come in and see all the other rolls we have in store. The only hard part will be in deciding which ones to choose!

Okinawan Sweet Potato Donut & Blueberry Cream Cheese Scone from Our Bakery
We offer a wide variety of mouth-watering baked goods made fresh daily.  From muffins to scones, and donuts to chocolate chip cookies, cakes, and pies, it won't be easy to resist such exquisite treats! We know you'll love our wide variety of gluten-free and vegan desserts. Try our new vegan, oven-baked donuts (Especially Okinawan Sweet Potato, it's so good!)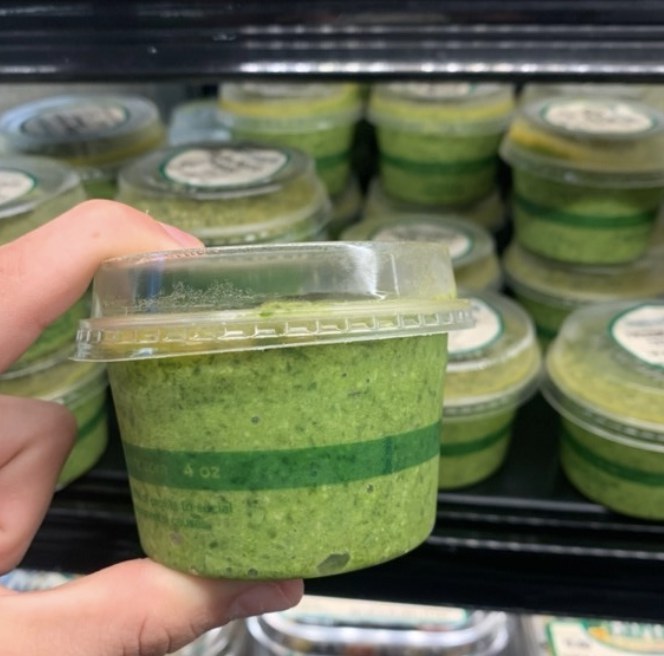 Fresh Pesto
Pesto is everyone's favorite way of adding more flavor to pasta dishes and even vegetables and protein. With healthy, fresh, and local ingredients you can never go wrong.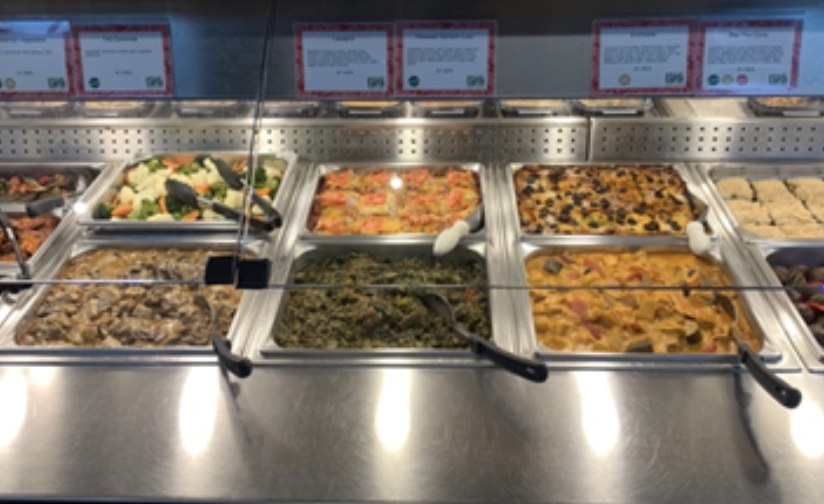 Hot Table
When you see our hot table, you'll be amazed! Known for its wide assortment of culinary delights, our hot table offers a diverse variety of prepared entrées. Enjoy vegetarian versions of all-time classic favorites from American, Mexican, Indian, Italian, and Chinese cooking and other cuisines.  Popular dishes include enchiladas, lasagna, eggplant parmesan, and stuffed shells Italiano!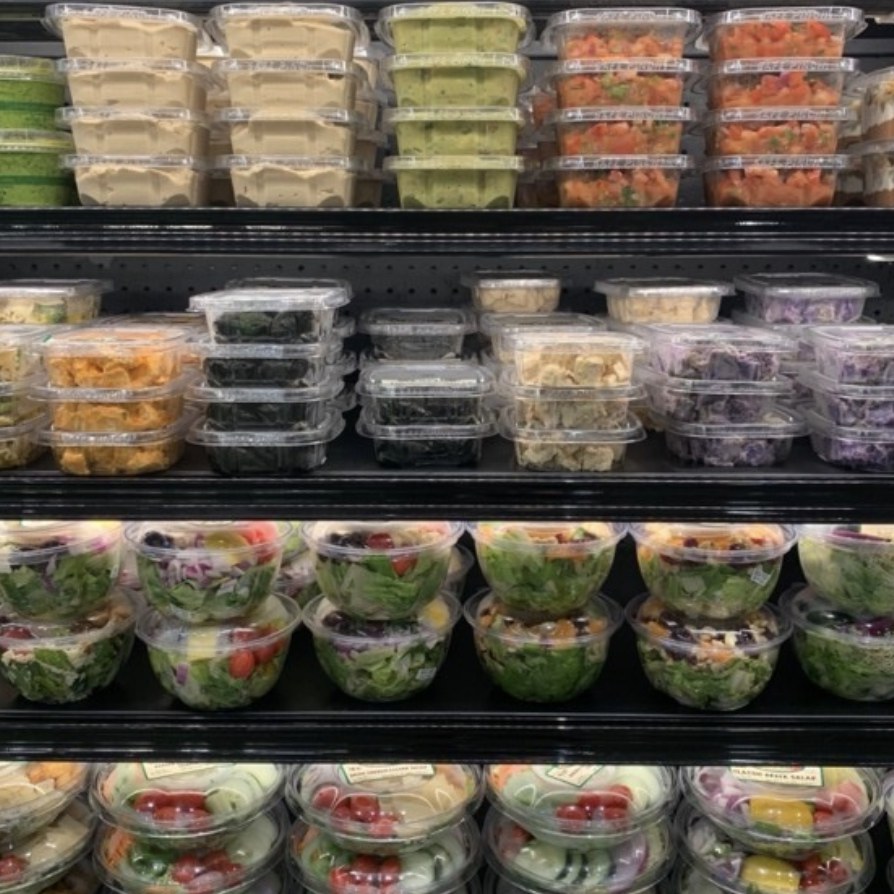 Salad Bar
We offer some of the most delicious, unique salad bar items in all of Hawaii! From everyday favorites, such as homemade coleslaw and potato salad to more "exotic" items, such as our great tasting and nutritious quinoa kale salad, you'll be amazed at the delicious variety of fresh salads you can choose from. You'll love our famous Mock-Chicken Tofu Salad, our Okinawan Sweet Potato salad (a purple powerhouse of nutrition!) and our delicious Tofu-Nori Wraps …Mmm!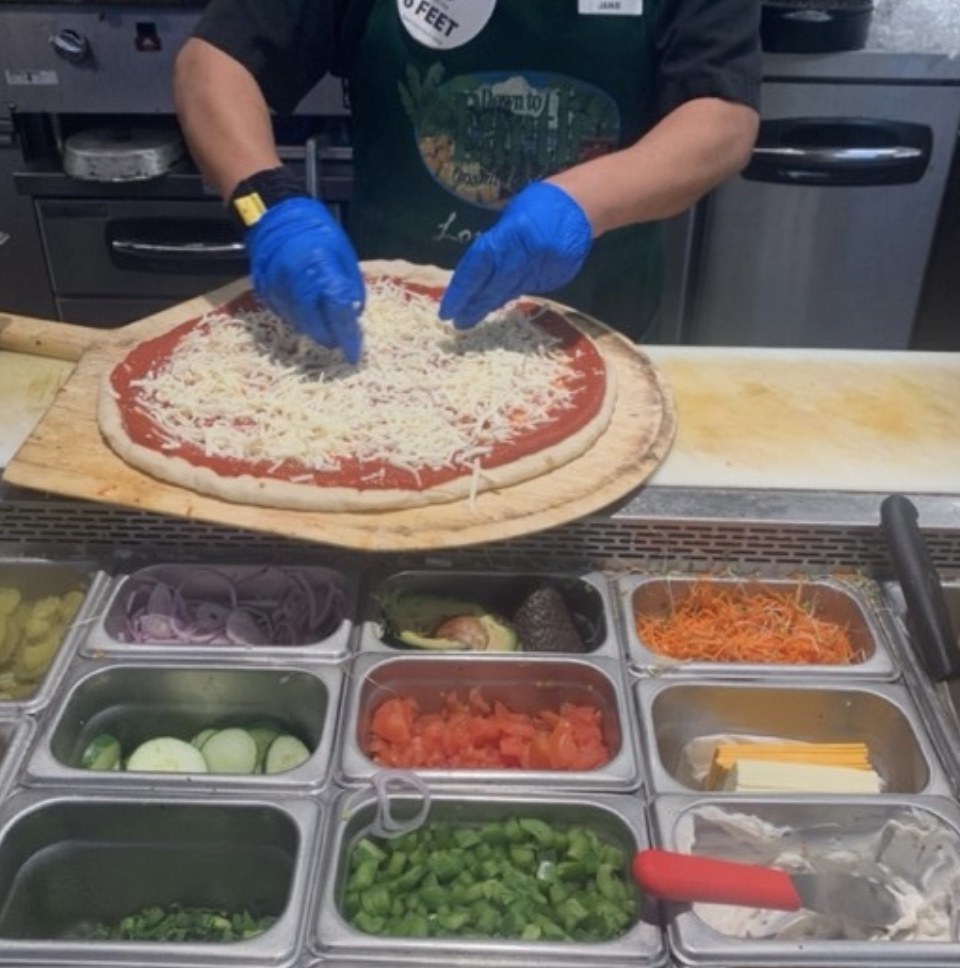 Fresh Pizza
We know that pizza is an important part of any menu, so we wanted to make sure that we have vegetarian options that everyone can enjoy. Each pizza in our expanded deli stores (Pearlridge, Kailua and Kakaako) is made to order by hand and includes fresh veggies as well as mock meats that would fool even the biggest meat lover! Give our pizzas a try for your next big game night or just a weekend in.
If you have any questions about any of the products we make from scratch in our Down to Earth stores, feel free to reach out to our friendly and knowledgeable team members or contact our Customer Service team at customerservice@downtoearth.org. You can also visit our website to learn more, click this link for more information.