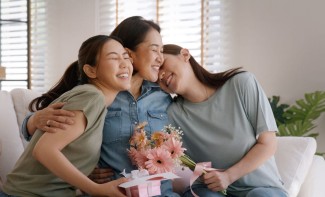 May is here and Mother's Day is near! While it might be "Mother's" Day, this is a great opportunity to celebrate all the strong, beautiful, caring people in your life; whether they're a biological mother or someone who feels like a mother. We've compiled a list of our favorite Mother's Day gifts for the special people in your life.
We hope this list helped if you needed some Mother's Day inspiration! Remember, you don't need to spend money to create a meaningful gift. A nice note, phone call, hug, or a homemade meal means just as much - it's the thought that counts! Happy Mother's Day, we appreciate all the mothers out there!
Rose Hip Oil –This Mother's Day, give the gift of relaxation and self-care. Rosehip (Rosa canina) oil is well known for its prevention of long-term skin damage. We recommend: AURA CACIA Organic Rosehip Skin Care Oil (30 mL). We love this product because it is dermatologist tested, organic, non-GMO, no animal testing, or synthetics, and it is vegan!

Diffuser – Diffusers are a great way to incorporate the benefits of aromatherapy into your healthy lifestyle. We recommend: Now Solutions Diffuser Ultrasonic Wood because it uses vibrations for diffusion instead of heat, so you only need tap water and your favorite essentials. So easy!

Essential oils – Essential oils smell amazing, reduce stress, and have various benefits for your physical and mental health! We recommend: Down to Earth's very own selection of essential oils! Some of our favorites include Energy Boost, Lemon Eucalyptus, and Head Relief.

Cosmetics – Feeling beautiful every day is so important and using cosmetics without the fear of toxic chemicals can help you achieve this! We recommend: Mineral Fusion Brush-on Sun Defense SPF 30 offers UVA and UVB protection without parabens and phthalates - it's gluten-free, vegetarian and hypo-allergenic!

Gift set / travel kit – Having a good travel kit is awesome for keeping the essentials at hand with purse-sized products. We recommend: ANDALOU Naturals Age Defying Skin Care Essentials perfect for trial and travel. This non-GMO set comes with 5 essentials for cleansing, repair, and more!

Cookbook – The perfect gift for Mother's Day - it has recipes but also doubles as a coffee table accessory. Any mom will love this two-in-one combo! We recommend: Down to Earth's Organic & Natural Cookbook includes 40 vegetarian recipes inspired by popular dishes from our cooking classes and the Down to Earth Deli!

Himalayan salt lamp – This decorative lamp for your home is carved out of pink Himalayan salt and is said to have many benefits from boosting mood to improving sleep. We recommend: Aloha Bay Himalayan Crystal Aroma Lamp because of its unique design that incorporates aromatherapy. Hand-carved salt lamp and hand-blown glass diffuser!

Chocolate – Show the moms in your life how sweet they are and how much you care about them with chocolate! We recommend: The Good Chocolate - made with zero sugar and extremely delicious! Made from bean-to-bar for people leading a healthy lifestyle and seeking the freedom to indulge.

Tea – Tea has always been known for being a great alternative to caffeine, but also has a relaxing effect on the mind and reduces anxiety. We recommend: Yogi Honey Lavender Stress Relief is made with herbs traditionally used for relaxation to help your body and mind to unwind.

Gift card – If you're just feeling stumped, maybe it's best to give a gift card and the moms in your life can enjoy choosing something for themselves! We recommend: Ask our friendly cashiers for assistance in purchasing a gift card!