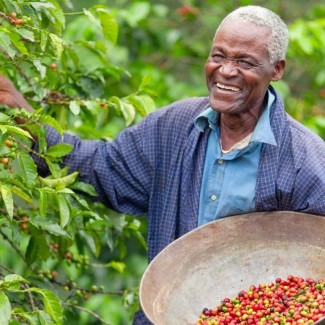 Behind Fair Trade Month
The idea of fair trade can be summarized as a global movement to trade based on partnership, instead of exploitation. Fair trade protects prices for farmers and workers and provides clean, fair, and good working conditions for all. It was started by a woman named Edna Ruth Byler in 1946 in Puerto Rico who began importing needlecrafts from low-income women in South America. Byler sold the crafts to friends and neighbors in the United States, telling stories of the women who had made them and laying the groundwork for the first Fair Trade organization, the Mennonite Central Committee.
Many organizations followed with the shared goal of developing fair trade supply chains, including the World Fair Trade Organization (WFTO) in 1989. In 2004, the first annual National Fair Trade Month was declared to be in October.
The selection of fair trade products has grown well beyond needlecrafts to include chocolate, coffee, rice, quinoa, sugar, fresh fruit, and a huge variety of clothing, accessories, and homewares. Nearly 2 million farmers and workers (and counting!) in over 70 countries are now Fair Trade certified. This movement is gaining traction because it has become increasingly clear how much we need to promote fairer trading conditions to combat issues like child labor, climate change, gender inequality, and poverty. Most workers in factories or on large farms in low GDP countries lack formal contracts and earn low wages without basic health and safety precautions.
OUR CHOICES MATTER
Choosing to buy fair trade products is like shopping locally. It's a powerful way to prioritize the people behind your food and clothing. As consumers we control the market with our spending. Whatever we buy is what we in turn support. When we purchase food or products that have been mass-produced on a large scale, and potentially imported from low GDP countries, lots of things might be sacrificed to make sure they come to us at the cheapest price.
TOP 3 WAYS TO SUPPORT THE FAIR TRADE MOVEMENT THROUGH YOUR CHOICES
Buy fair trade products where possible. Can you make a commitment to buy at least one Fair Trade certified product every time you shop? We make it easy with a big range of Fair Trade certified brands in our stores – some of our favorites include Dr. Bronner's, Endangered Species Chocolate, Nature's Path, Numi, and Terra Thread.
Delve deeper into the products you buy. Reach out to the companies that manufacture your go-to products and find out where they're coming from and the processes that they go through to reach the shelf. You may make some shocking discoveries that will lead you to make the switch to fair trade products.
Follow and share on social media. If you're a 'tweeter' or a 'grammer', follow @fairtrademarkus for the latest news from the fair trade movement. You can also make your support known and spread the word about brands that are sourcing ethically and transparently.
Through education and personal commitment, we can successfully change the way that trade works, and make fairer trading conditions a priority for every product.