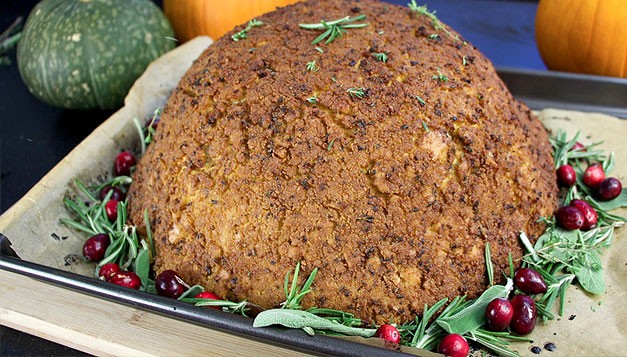 The holiday season has arrived, and, for many, it lends itself to an abundance of joyful gatherings, bringing together family and friends to celebrate the many gifts of life. We hope you enter into the holiday season with a light heart and a positive attitude. With that in mind, here are some great recipes and decorating ideas to help you relax, have a good time and enjoy those moments in life that you truly want to celebrate.
Whether you are planning an elegant meal, a casual potluck or an array of hors d'oeuvres, our vast catalog of recipes is the perfect resource. If you are a Down to Earth shopper, you probably already have an inclination toward whole, organic, plant-based foods, but even if your guests don't share your inclination, our recipes have something to satisfy every palate. If you are hosting a potluck meal and would like to keep it plant-based, ask your guests to bring the sides (most traditional sides are typically plant-based already) and focus your energy on preparing a stunning main dish. A vegetable loaf, tofu loaf or tofu-turkey can make for a show-stopping main dish. Surround it with fresh, locally-sourced versions of traditional favorites (or perhaps a few non-traditional surprises) and everyone will be asking for seconds - and recipes!
Here are some ideas from our online recipes page to get your wheels spinning and your mouth watering.  If you look at only one recipe, you must check out the recipe for the Tufu Turkey pictured above.  The recipe is the first one on the list below.  It looks great, tastes great, and is always a hearty party favorite.  Add the Mock Turkey Gravy (below) and you'll rock!
Entrees
Sides
Stuffing
Dessert!
Beverages
Browse our recipe pages on your own to find just what you are looking for. You can search by category or keyword to find the perfect recipe. When planning your meal, try to have your recipes figured out at least a couple of weeks in advance to allow plenty of time to get your shopping done as well as conduct any new-recipe "experiments."
Natural Holiday Décor
All that fresh, delightful food is going to need some fresh, delightful décor to compliment it! When decorating for the season, consider keeping the gaudy, cheap-plastic trimmings in storage (except of course, for those sentimental pieces your keiki made or the gift from your tutu, who will be visiting). Instead, surround yourself with elements of nature, bringing an organic feel into your home and promoting an atmosphere of calm and abundance. Here are some ideas, with links:
You might be surprised at how many things you already have around the house that can be used to create a nice presentation. Woven baskets, mason jars, decorative bowls, parchment paper, twine, twigs, natural materials like cotton and jute - all these things can be upcycled into holiday décor. Food itself can be used as decoration – think pineapple, artichokes, pomegranates, mangoes, multi-colored apples, cranberries, cinnamon sticks…the colors and textures of these foods can bring beauty into the home and cultivate a feeling of gratitude for all that Mother Nature provides.
It's easy to get wrapped up in the craziness of the season, but with wholesome food, natural décor and the right attitude, we remind ourselves to slow the pace, embrace simplicity and deepen the relationships in our lives. So let's raise a glass (of Chai Sangria) to friendship, fresh food, natural beauty, and the simple joys of the season!
As always, from all of us at Down to Earth, Love Life! Eat Healthy, Be Happy!