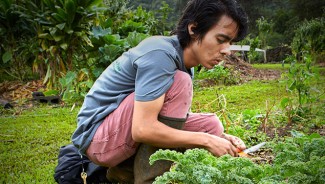 Living in Honolulu, it's so easy for me to forget that I live on land that is still very much alive. This past December, a group of thirteen Down to Earth team members (including myself) dedicated some time to volunteer at a special place tucked deep in Kalihi Valley. Ho'oulu 'Aina is a beautiful nature preserve and organic community garden -- if you haven't been there, it's truly breathtaking! Every Thursday, Ho'oulu 'Aina invites the public to their Growing Farmers community workday from 9:30am to 12:00pm. Check out their website for more info at www.hoouluaina.com. The amazing work they do is a true testament to the power of community coming together to heal the land and its people.
We were all mesmerized by the lush green around us, and by the outgoing and passionate staff there. Our guide Jessica welcomed all of us with her warm heart and enthusiasm for healing the 'aina. Jessica shared traditional organic farming techniques handed down from our ancestors and elders. Our team spent the day mulching and creating new garden beds.
There is something very special about the energy of Ho'oulu 'Aina -- despite being tired and muddy, we all had huge smiles on our faces at the end of the day. Adding to the experience was the chance to harvest fresh kale, wing beans, chard, and turmeric for our lunch. Some of our team members joined with folks from Ho'oulu 'Aina in preparing a beautiful lunch for everyone on the farm. Spending the time to malama the land, and cooking together as a community was a wonderful way, albeit a small one, to help make positive change in Hawai'i.  You can too!