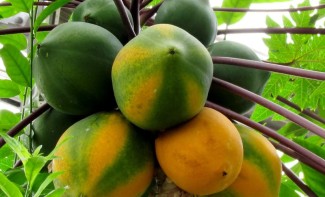 Aloha everyone! Can you believe we are almost toward the end of the year? Seems like just yesterday was the start of a fresh new year. So many exciting things have happened in Hawaii this year. There are two celebrations that I love: Halloween and Non-GMO Month!
You must be wondering, why on earth do I love to celebrate non-GMO Month? It's because it's the time of year when we can really raise awareness about GMOs and what we can do as a community to find alternatives. Just wanted to share some tips on how to celebrate and inform your loved ones about GMOs:
Host a Lights Out Potluck. Local people are all about potlucks. Host a get together with your family and friends and tell them to cook their favorite dish using non-GMO ingredients. (You might even impress them with a stellar recipe from our website.) For the more advanced potluck, turn out the lights, power down electronics, and take the party out under the stars.
Volunteer at an Organic Farm. Get a group of friends together and get your hands in the dirt. What better way to celebrate non-GMO Month than taking time out of your day to spend time on an organic farm. You'll learn more about sustainable farming, how food is grown, and more ways you can support your local organic farmer. You might even be inspired to start your own organic farm!
Dress up as your favorite Non-GMO Hero. October also means Halloween. Why not dress up as your favorite non-GMO hero? Dr. Vandana Shiva when she visited the islands? Non-GMO papayas? Be creative. You'll get a chance to be in their shoes and also explain to folks who you're dressed as and why supporting the push for a non-GMO Hawaii matters to you.
These are just some quick ideas that might make celebrating Non-GMO Month a little more fun. The possibilities are endless. I'd love to hear your creative ideas on how you'll be celebrating! Don't forget to take plenty of pictures to share with your friends.
Hope you have a fun and memorable Non-GMO Month!
With aloha,  Jordan Ragasa