Down to Earth is pleased to be a sponsor of Hawaii's first ever VegFest Oahu, coming this September 24, 2016 from 1pm - 6:30pm at Honolulu Hale. Here's a roundup of what's new with the festival and how you can get involved.
The Latest Buzz - Festive Firsts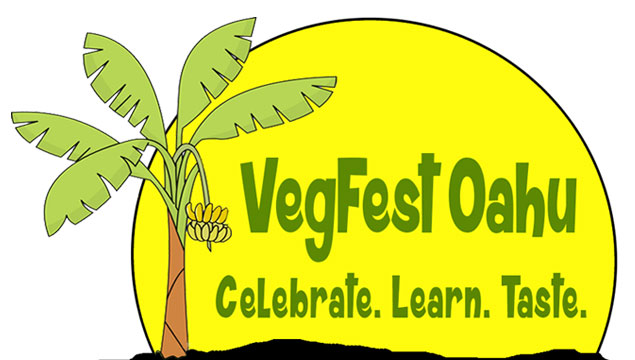 An early peek into VegFest Oahu's lineup. One of our performers on the Main Stage will be much-beloved local musician Paul Izak, founder of Yogarden Hawaii, singing his songs of peace and green living.  For our Inspiration Speaker Series, we just confirmed Michael Kramer, author and financial advisor at Natural Investments specializing in sustainable and socially responsible investing.  In our Learning Kitchen you will get to see cooking demos from expert chefs Sylvia Thompson, from Greens and Vines Restaurant and Down to Earth's very own Deli Manager Edgar Edge.  The program is being expanded more and more every day as people learn of VegFest and ask to be a part of this fantastic event.  Want to know who and what is next?  Join the VegFest Oahu mailing list to keep up with the festivities as they unfold.
Introducing Aloha Advocacy - Join Us!
VegFest Oahu wants to share our message in funny, loving, inspiring, inclusive, nurturing and encouraging ways. Let's help people discover how easy going plant-based can be and to think of it as an adventure.  VegFest Oahu wants YOUR help to create family-friendly bridges for the veg-curious coming to the festival.  We believe many people in our community are teetering on the edge and ready to be inspired towards change by fun, friendly people - like YOU! - and by feeling like they are part of something right and good.  VegFest Oahu is an YOUR opportunity to be part of sharing these values in our community.  Join us!  Become a Vegfest Oahu Volunteer. We have many ways you can get involved.
Invest in the Fest - Bumper Sticker Fundraiser

We've got a mountain of creative ideas about how to make VegFest Oahu a transformational day to remember - and we know you want to be a part of it. You can - by becoming a Bumper Sticker SuperHero! Contribute to our fundraiser with a donation of $11 or more and we will send you the official VegFest Oahu 2016 Bumper Sticker: "HI on VEGGIES."   Your support will help us produce provocative, playful, free festival fun like:
Animal masks for a Compassion Parade
Gas and snacks for musicians, speakers and expert chefs donating their skills
Plywood, poster board, canvas and paint to create Photo Op "cut-out" Boards, InfoGraphic Posters and a Community Mural
Climate Change Interactive Installations
Paper leaves and pens for a blessing / prayer tree
Supplies for Keiki Corner activities
Compostable tableware for the Free Vegan Food samples tent
Veg Super Hero Costumes
...and much more!
And, it'll help fund gas, materials, and vegan food for musicians, speakers and chef presenters. Are you ready to help make Oahu's first VegFest a success?  We bet you are!
Call for Festival Vendors


You shop at Down to Earth so we know you have good taste and care about making a difference in the world. If you're a health, wellness, vegan-friendly, and/or green business owner we would be happy to showcase your products and services to our VegFest Oahu attendees.  Contact us about how to get booth space at Hawaii's first ever festival celebrating plant-based, sustainable living.