Today, we celebrate World Oceans Day! But that doesn't mean that we should only think about caring for our precious oceans on today only. Aside from not offering plastic straws in our deli, we have a lot of ways you can shop ocean friendly at Down to Earth! Check out downtoearth.org/shop for these items and more.
The great news is that you don't need to eat fish to experience the taste of seafood. We have plenty of "seafood" items that satisfy the craving.
Gardein Fishless Filets - Breaded 'fish' cutlets that taste just like fried fish. Swap these in your fish and chips recipes and thank us later!
Good Catch Tuna - Canned or bagged 'tuna' that you can use in your tuna salads, tuna sandwiches and mac salad
All Vegetarian Inc Shrimp - Yes, you read that right! We love using this konyaku-based shrimp in our shrimp tempura sushi or even North Shore style garlic shrimp!
Nori Snacks - A local favorite, we carry several brands that make great flavored nori snacks
Wakame soup - A guilt-free and simple comfort food
Dulse flakes and gomasio - Sprinkle either of these onto your rice or tofu to add that ocean flavor
Earth and Sea Salad - Available to order through our deli app, this is one of our most popular dishes!
You can also try some of these seafood inspired recipes: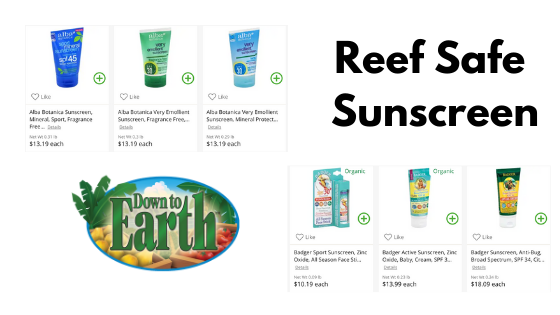 We also sell reef-safe sunscreen, meaning the ingredients used are not toxic to coral or marine life in the reef ecosystem. We take pride in these standards because the ocean is so important not only to us here in Hawaii, but the entire world.
Kōkua Sun Care Hawaiian Natural Zinc Sunscreen - A local company who uses Hawaii-grown ingredients in their sunscreen and after sun care products
Little Hands Mineral Sunscreen - Local company founded out of the need for gentle sunscreen for keiki and adults alike
Alba Sunscreen
Badger Sunscreen
We hope you try some of these products and recipes out. Let's work together to protect our oceans!