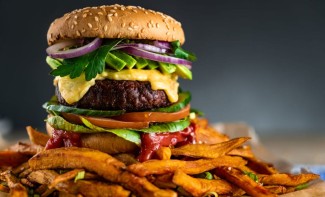 It wasn't that long ago when natural foods stores like Down to Earth carried just tofu and tempeh. Now, the plant-based meat and cheese sections are huge and can be mind-boggling if you're not sure which type to try. Even the most adventurous shopper may be hesitant to buy a product that they may not like when they get home and sample it.
To help you navigate the rapidly expanding plant-based meat and cheese options in our stores, we've put together a few tips to find just the taste and health benefits you're looking for:
(Please note that there are a LOT more plant-based brands and items to try in our stores, but we picked some of the most popular and established ones to highlight here. Product availability will vary by store location and is based on changeable supply chains. Call ahead to our stores to see what we have in stock.)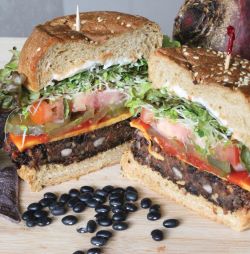 Plant-based Meat
Tofurky
Tofurky started in 1980 with just tempeh and now has grown to plant-based chick'n, deli slices, burgers, sausages, and roasts. These products are all made with vital wheat gluten and tofu—so if you're sensitive to soy or wheat these may not be the products for you. Tofurky makes excellent deli slices for the perfect cold cut sandwich, with flavors like smoked ham, hickory smoked, and bologna. If you're looking for the ideal plant-based holiday entrée, look no further than Tofurky's roasts and feast packs which include the mock ham or turkey and dressing.
Yves
Yves Veggie Cuisine is another product line that our customers love. Yves has lots of choices from appetizers, like Falafel Balls, to burgers, ground round, veggie dogs, deli slices, and even several breakfast options (bacon!). Some of Yves' products are made without soy or wheat, with a chickpea base, but read labels carefully if you have a food sensitivity. Yves sausages and bacon are so 'ono on their own or try them in a breakfast burrito or eggless scramble.
Field Roast
Field Roast may be best known for their sausage. Their Smoked Apple & Sage plant-based sausages should be on your "must-try" list. This sausage, or their other flavors, can really make a meal; pair it with roasted veggies, potatoes, or pasta and you're in for a fulfilling treat. Field Roast products are made with vital wheat gluten and/or wheat protein isolate. Some of their products also use pea protein. All Field Roast plant-based meats are Non-GMO Project verified.
Alpha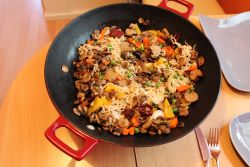 Head over to the frozen foods section to check out Alpha Foods' line. If you've been wanting to find a really good meatless replacement for a chicken burger or chicken nugget, you've found it. Alpha Plant-based Nuggets and Patties are simply the best. They are crispy on the outside, flavorful, and have just the right texture. Kids love 'em, too. Alpha products are made with soy protein concentrate, wheat gluten, and are GMO-free. The Alpha product line, which includes burritos, strips, crumbles, sandwiches, patties and more, is just the ticket for meat-eaters who want to eat plant-based from time to time (which we think is awesome!)
Plant-based Cheese
Daiya
Daiya's first products, Cheddar Style and Mozzarella Style Dairy-free Shreds, debuted about 15 years ago and continue to get rave reviews. Their products are free from most common allergens: soy, dairy, gluten, eggs, peanuts, and tree nuts (except coconut). Daiya's shredded options (they've got 6 styles to choose from), actually melt for amazing quesadillas, pizzas, grilled cheese sandwiches, or other fave dishes. They also make three types of cheesy, creamy deluxe sauce. Heat it up and put it on veggies, pasta, or dip some chips in it—you won't miss the dairy at all. Bonus tip- have you tried Daiya's Cheezecake yet? It's in the freezer section…go grab one today!
Follow Your Heart
This company started in 1970 with four friends that wanted to offer high quality, healthy, plant-based foods for their community (sounds like Down to Earth!). Today Follow Your Heart is still doing just that but they're also working from a solar-powered Platinum Level Zero Waste Certified facility that diverts over 98% of their waste from landfills through recycling, composting, reduction, or reuse. Although they're probably best known for their seriously great Vegenaise (plant-based mayo), Follow Your Heart's cheese products are essential for any plant-based or flexitarian diet. Dairy-free Smoked Gouda—yes, that's a real product and you've got to try it. Follow Your Heart has five other types of vegan slices, plus two types of shreds. Their products are gluten-free, soy-free, and vegan. They are made with coconut oil and modified potato and corn starches.
Violife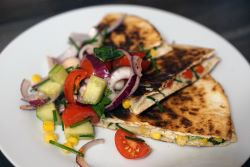 Violife comes to us all the way from a vegan-dedicated community in Greece. All their products are free from dairy, lactose, GMOs, gluten, nuts, soy, preservatives, and cholesterol. They've won an impressive number of awards for the best vegan cheese, so give it a try and see if you agree. Violife's product line includes cheese slices in flavors like Smoked Provolone, shreds, cream cheese, dips, and even plant-based butter and sour cream.
We hope some of the plant-based meats and cheeses above get your mouth watering and you'll be adding them to your shopping list today. Down to Earth shoppers love these meatless and dairy-free brands for their dedication to customer health, animal compassion, and environmental protection. Stop by our stores for guidance on how to be healthy, thrive, and eat really well on a plant-based diet—we're here to help you!