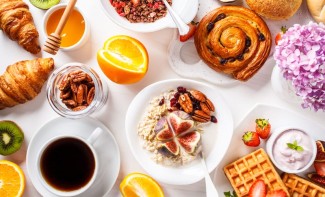 What is the Down to Earth Way to Eat?
Since 1977 our delis have been serving up some seriously ʻono grinds that are also healthy and vegetarian. We love inspiring people to eat the Down to Earth Way at home with our epic recipe database, fun cooking demos, and helpful eating tips, plus everything you need to stock your kitchen in our grocery aisles.
Eating the Down to Earth Way is simple:
100% Plant-based
You won't find anything in our stores with meat, fish, poultry, eggs or containing ingredients from slaughtered animals. Plus, nothing in our stores is tested on animals!
Sustainable & Earth Friendly
What we choose to eat is one of the most important ways to minimize our personal contribution to environmental destruction and climate change. Many experts agree that the greatest change an individual can make to preserve the planet is to switch to a meatless diet.
Fresh & Local
At Down to Earth we love supporting growers in our communities by stocking our produce aisles with fresh-from-the-field fruits, veggies, and herbs. Fresher produce is always the best! Check out the many amazing products handcrafted with aloha by local businesses on our shelves, too!
Organic & Non-GMO (whenever possible)
What you eat and serve your ʻohana is very important! That's why we fill our stores with organic and non-genetically modified organisms (GMOs). Genetic modification produces results that otherwise would not appear in nature. Down to Earth is opposed to the development of products containing GMOs because we believe they may pose health, safety, and other potential risks that far outweigh the purported benefits. At Down to Earth we give priority to certified organic and Non-GMO Project Verified products.
Free from Chemical or Artificial Additives
You may not know that our Down to Earth Team is diligently working behind the scenes to check the ingredients of every product on our shelves or that is used in our deli foods. We only accept goods that are free from artificial colors, flavors, preservatives, and other added chemicals.
Minimally Processed
Fresh, whole foods are best for a healthy body! The Down to Earth Way of Eating means choosing minimally processed ingredients.
Naturally Colorful
Just as our Hawaii skies are known for rainbows, our stores are known for promoting the many benefits of "eating the rainbow". The phytochemicals (naturally occurring plant chemicals) in fresh fruits and vegetables are represented by their colors to show us the many wonderful health-giving properties they contain. Red foods have antioxidants and anti-aging effects. Yellow and orange foods contain carotenoids and bioflavonoids to help maintain heart health, vision health, a strong immune system, and lower the risk of some cancers. Read more about the benefits of Eating a Rainbow
And last but not least- Totally ʻOno!
Healthy food should taste great. If you don't love it, you'll have a hard time continuing to eat the right way and you'll miss out on the joys of sitting down for an ʻono meal. Let Down to Earth help you find foods that are good for your body and make you hungry for more.
Join us in eating the Down to Earth Way- love what you eat and love life!