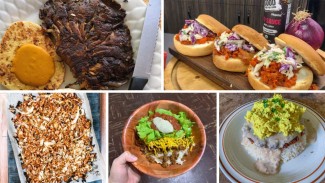 Dads are the best! Whether it's your own dad, grandpa, favorite uncle or any other great father figure in your life, these special men deserve the best. You can help by encouraging your favorite papa to cut back or even transition to a plant-based diet. This is can be a challenge and we're here to help!
According to a 2014 study from the American Heart Association showed that men ages 45 to 79 who ate 75 grams or more per day of processed red meat, like cold cuts, sausage, bacon, and hot dogs, had a 28% higher risk of heart failure compared with men who ate less than 25 grams. (Harvard Health, 2019)
Making simple substitutions to cut back on meat can help maintain a sense of familiarity. Meat substitutions have come a long way the last couple of decades, even more so in the last few years with the exploding popularity of Beyond Burgers and Field Roast. Classics like mushrooms and tofu are still amazing as well.
Order "meaty" favorites like our Veggie Hot Dogs, Beyond Burgers, Veggie Reubens from the DTE Deli App or whip up some Dad approved recipes like: