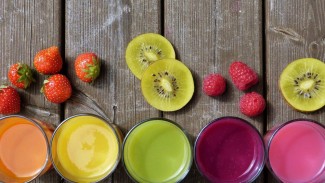 Feeling like you need a boost in immunity, energy, and overall improved health? It may be time to add fresh juices to your regimen! Freshly squeezed, organic juices are a refreshing and quick way to get more fruits and vegetables in your diet.
Medical research now shows that eating at least 5 servings of fruits and vegetables every day is best. By the way, the studies have also shown that the ideal combination is 2 fruits and 3 veggies ―if not more.
In an impressive recent study of about 2 million people (more than the population of Hawaii!) who were followed for 30 years, compared with people who ate just two servings of fruits or vegetables each day, people who ate five servings had a: 
13% lower risk of death from any cause 
12% lower risk of death from heart disease or stroke 
10% lower risk of death from cancer 
35% lower risk of death from respiratory disease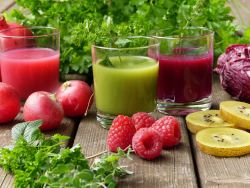 Simply drinking juiced organically grown fruits and veggies provides extra vitamins and minerals to increase your daily intake. It's quick & easy, is great on the go, and is a perfect warm weather pick-me-up!
If you don't have a juicer or, like me, dread the chore of cleaning the juicer, head to Down to Earth for a custom-made juice. Our deli team is standing by with farm fresh, 100% organic fruits and veggies, ready to create your perfect drink. 
Here are a few of the choices on our menu, and just some of the health benefits they provide:
Ginger
Besides getting the enlivening jolt, when you drink ginger juice, you're ingesting gingerol, a natural compound in ginger root, that's great for improving gastrointestinal motility―the rate at which food moves through the digestive process. This can help prevent bloating, gas, and other symptoms of indigestion. Ginger also has antioxidants, anti-inflammatory compounds, and can improve blood sugar regulation.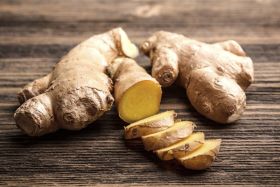 Celery
Rich in vitamins C and K, as well as folate, potassium, and antioxidants, the humble celery stalk is a great choice. Studies have suggested celery may also help reduce inflammation and boost cardiovascular health.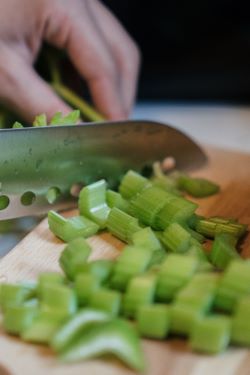 Turmeric
As an anti-inflammatory, turmeric juice may help reduce the most prominent symptoms of arthritis. Research has also shown that curcumin, the active ingredient in turmeric, may be able to improve immune function with antioxidant, antiviral, and antibacterial properties. Interesting studies also show that curcumin may help in weight loss, managing diabetes, and preventing cell mutations that can lead to cancer.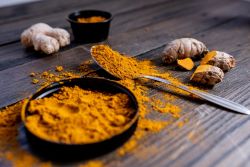 Kale
You can tell just by looking at kale juice that it's nutrient-packed. This dark green superfood is full of B-complex vitamins that can help you derive energy from nutrients. Kale juice also provides abundant iron and copper to activate the enzymes your cells use to generate fuel and deliver the oxygen your cells need to support cell metabolism.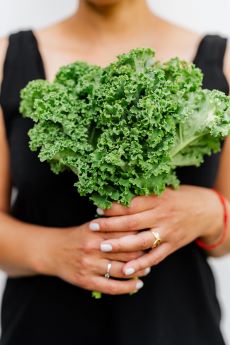 Besides the Make Your Own Juice Menu, our Down to Earth delis also offer a selection of juice combos that are powerful nutrient boosts to nourish your body and brain. Order our Beauty Beets, Fantastic Fat Fighter, Energize Surprize, or a Superfood Shot of ginger or wheatgrass, and watch our team juice it just for you. You can't get a fresher and healthier treat than that!